Indian OEM showcases unique hand brake technology for cars
Indian OEM showcases unique hand brake technology for cars
Jan 18, 2023, 02:41 pm
2 min read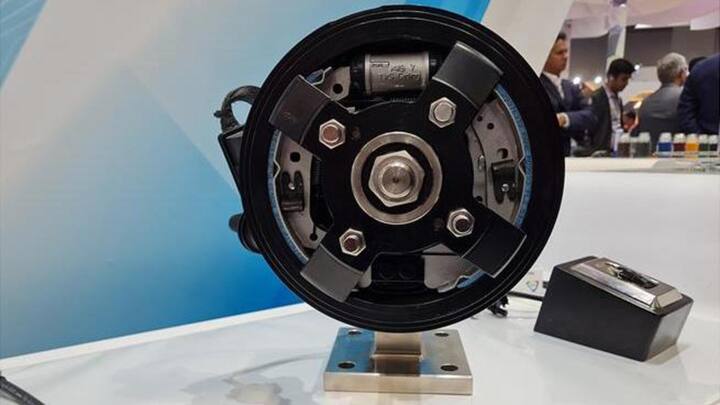 Chennai-based Brakes India has showcased a motor-on-drum braking system at the Auto Expo 2023. It has been indigenously developed and is meant for usage in passenger cars. The brake frees up cabin space occupied by the handbrake lever, and features like hill-hold assist can be integrated into its system. The setup is suitable for all kinds of cars, including large SUVs.
Why does this story matter?
Operating the hand brake lever is tedious and removing it can free up much-needed cabin space, especially when it comes to smaller cars. This is where the motor-on-drum brake system shows its magic.
The development of the new brake system is localized, and the setup is expected to be up to 20% cheaper than electronic parking brake (EPB) systems.
How does the braking system work?
The motor-on-drum brake system replaces the disc brake setup in conventional EPBs with a drum brake. EPBs are generally seen in premium cars. It also uses an actuator and electronic motor to engage/disengage the parking brake. The actuator is used for drum brakes with a diameter between 200-295mm, which makes it compatible with all varieties of cars.
The setup can offer 200kg load at lever end
EPBs offer up to 150kg of load at the lever end. In comparison, the motor-on-drum brake system can do up to 200kg. Meanwhile, by tinkering with a car's electronic control unit (ECU), features such as drive-away assist and hill-hold assist can be integrated into the new braking system. The setup has been locally developed and its software development, testing, and validation have been completed.
Motor-on-drum brakes may be used in EVs too
The motor-on-drum brake system will be manufactured at the company's factory in Chennai. However, its launch timeline and pricing details are unavailable. The setup may also find application in electric vehicles as they are slowly moving away from traditional handbrakes.
The project aligns with Atmanirbhar Bharat campaign in spirit
"Aligning with the Atmanirbhar Bharat campaign for making India a self-reliant nation, a team of engineers at Brakes India designed the software of motor-on-drum brakes in the home country," said K. Vasudevan, president of the light vehicles division, Brakes India. He added that the braking setup is robust and fulfills global braking norms. It is getting "tremendous interest from the market."