Google shopping goes live, bringing a new search experience
Google shopping goes live, bringing a new search experience
Written by
Shubham Sharma
Dec 13, 2018, 03:25 pm
2 min read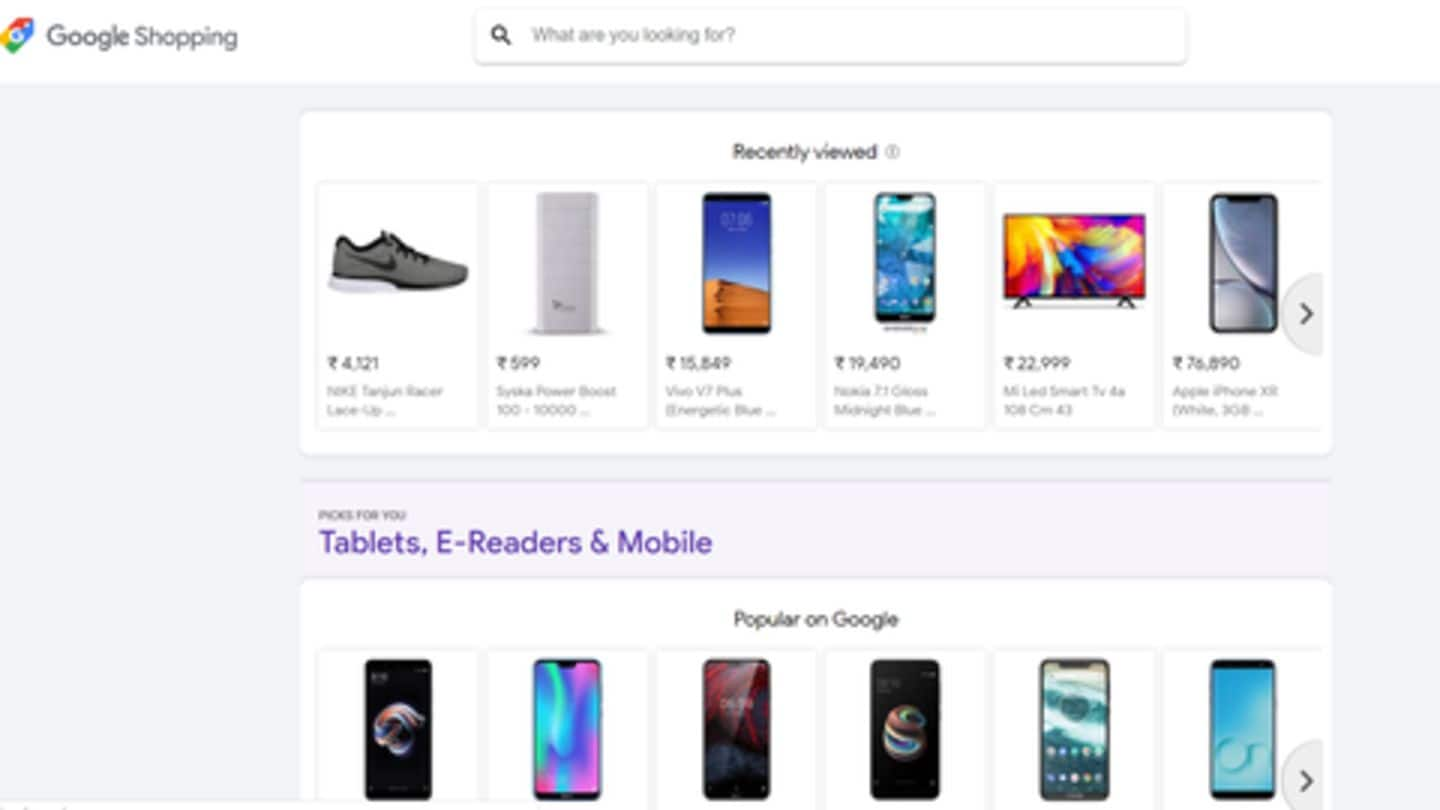 Finally, Google is rolling out its dedicated 'Shopping' experience in India. The company, according to a recent report in NDTV, is bringing a dedicated Shopping platform, where users can search, view and compare products from various online vendors. It is currently live with a massive range of products from different categories. Here are the details.
How to use Google Shopping?
Google Shopping, as the name suggests, is an advancement of Google Search aimed at letting users browse product listings from various marketplaces - just like MySmartPrice for phones. It could either be accessed by visiting the dedicated Google Shopping marketplace (shopping.google.com) or by searching for a product on Google and hitting the new 'Shopping' tab sitting right next to the 'Maps' tab.
This would help you find more products, better prices
On the home page, Google Shopping provides a list of trending products as well as top deals across categories like Mobiles and Electronics. Once you scroll down, it shows a range of departments, starting from cellphones and appliances to clothing, makeup, and home decor. From here, you can choose any category to pick a product, compare its prices, and find the best available deal.
After this, you'll be redirected to the merchant
After zeroing on a deal, all you have to do is hit the 'Visit site' button to be redirected to the merchant offering it and complete the purchase. Google currently offers listings from several big and small stores, including Flipkart and Amazon India. The offering is limited to online marketplaces at the moment, but Google has plans to bring offline retailers onboard as well.
Also, Shopping will integrate with Google Lens
Google has also noted that its Shopping experience will tie into Lens. This way, scanning a real-world product with Google Lens would help you find it on the Shopping platform.
But, what Google is getting in return?
With Shopping, Google wants to connect more Indians with online marketplaces. The development would naturally expand the reach and sales of online shopping stores, but as of now, the search giant is not taking any cuts for the platform. However, it could use the feature to expand its advertising practices in the future.