Zomato CEO posts 800+ vacancies: 24x7 job, no work-life balance
Zomato CEO posts 800+ vacancies: 24x7 job, no work-life balance
Jan 23, 2023, 07:17 pm
2 min read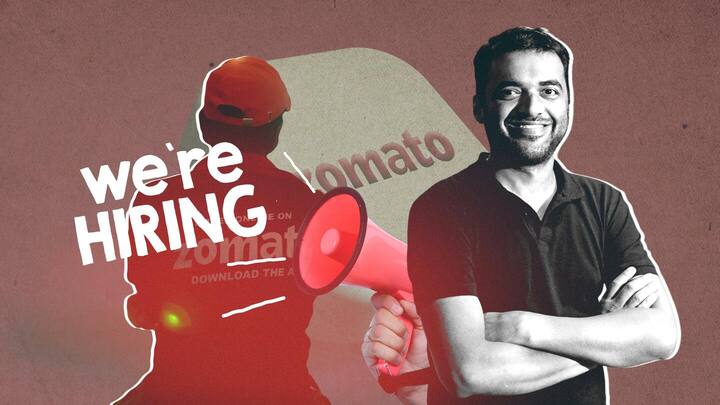 Zomato founder and CEO Deepinder Goyal took to LinkedIn to announce a shedload of job vacancies across five roles at the company. The advertisement for the "Chief of Staff to CEO" role says that "this is a 24x7 job, and the traditional employee mindset of work-life balance won't work." Here's more about the vacancy announcement by the food and grocery delivery giant.
In his LinkedIn post, Goyal mentioned that there are as many as 800 job openings across five roles at his company. Zomato is currently hiring for the roles of Generalist, Growth Manager, Chief of Staff to CEO, Product Owner, and Software Development Engineer II/III, as per his post.
The job advertisement enlists requirements for each role
Goyal went on to share the individual requirements for each role and asked his followers to tag their recommendations for these roles. "To express interest in knowing more about any of these roles, please email me at deepinder@zomato.com - me and/or my team will be prompt in responding to you and closing the loop either way," his post read.
Zomato's hiring alert comes after layoffs in previous quarter
To recall, Zomato started laying off employees in the second half of 2022 in a bid to cut its costs. It had fired nearly 3% of its 5,000-plus workforce. The rising inflation has severely impacted e-commerce demands across the country. Companies such as Zomato, Swiggy, and Delhivery clocking slower growth in the second half of 2022 are a testimony to this trend.
Layoffs came soon after top-level exits
Zomato's layoffs followed three top-level exits from the company in November. Its co-founder Mohit Gupta quit the company days after Rahul Ganjoo, who was the new initiatives head, and Siddharth Jhawar, the former head of its Intercity Legends service, resigned from their posts. To recall, Zomato previously laid off 520 employees in May 2020 in response to the COVID-19 pandemic's impact on its business.
Swiggy fired 380 employees last week
While Zomato has posted job openings, its principal competitor in the food and grocery delivery market, Swiggy, laid off 380 employees last week. This is the latest in the series of layoffs that rocked India's start-up ecosystem. A company spokesperson revealed on Friday that this layoff round was undertaken in a bid to rationalize business amid a tough venture funding market.