5.8-magnitude earthquake jolts Nepal; tremors felt in Delhi, surrounding areas
5.8-magnitude earthquake jolts Nepal; tremors felt in Delhi, surrounding areas
Jan 24, 2023, 06:17 pm
2 min read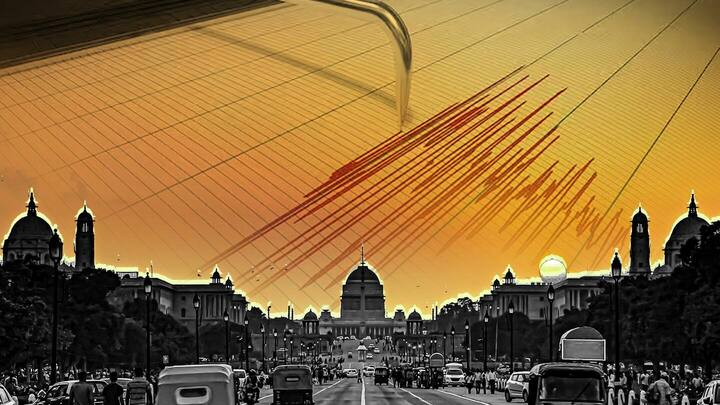 An earthquake of magnitude 5.8 on the Richter scale hit northwest Nepal at 2:28 pm IST on Tuesday, according to the National Center for Seismology (NCS). The quake sent out tremors which were felt up to Delhi and its surrounding areas. The earthquake occurred at a depth of 10km, and its epicenter was traced at 148km east of Uttarkhand's Pithoragarh.
Epicenter 148km away from Uttarkhand's Pithoragarh
USGS measured it at magnitude 5.6, EMSC at 5.4
There were no immediate reports of damage or casualty due to the earthquake. People took to social media to share their experiences and video clips of objects dangling in their homes. The European-Mediterranean Seismological Centre (EMSC) measured its magnitude as 5.4 on the Richter scale, Reuters reported. The US Geological Survey (USGS) measured it at 5.6 and its depth at 25.2km below Earth's surface.
People took to social media to share their experiences
Earthquake hit Haryana's Jhajjar on New Year's Day
The epicenter was reportedly located around 62km southeast of Nepal's Jumla and 109km northwest of Pithoragarh's Dharchula. Tremors in Delhi-NCR lasted less than a minute. As per experts, the lesser the depth of the quake, the more likely it is to cause damage. Earlier this month, on New Year's Day, an earthquake of 3.8-magnitude jolted Haryana's Jhajjar, and tremors were felt in Delhi-NCR, too.
Over 600 earthquakes above 4.5-magnitude in last 7 years
Nepal and the Himalayan region, which extends from the Hindu Kush mountain ranges from Afghanistan in the west to Arunachal Pradesh in the east, is one of the world's most earthquake-prone regions. As per the USGS, the Tuesday quake was the tenth in the region of magnitude 4.5 or above in a year. The last seven years have seen over 600 such quakes.
Indian and Eurasian continental plates collide to cause frequent earthquakes
The Indian continental plate's northward movement and its collision with the Eurasian plate produce frequent tremors. Scientists say that an enormous amount of energy is pent up below the surface, which could erupt anytime, causing a catastrophic earthquake.