Pollution spikes to emergency levels in Delhi-NCR
Pollution spikes to emergency levels in Delhi-NCR
Jan 07, 2023, 12:32 pm
2 min read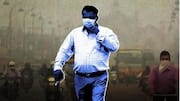 Delhiites are once again breathing toxic air, with the national capital's Air Quality Index (AQI) dropping into the severe category. Fine particulate matter 2.5 pollutant, which pierces through the lungs and causes chronic respiratory diseases, is almost over 100 times the safe limit set by World Health Organization (WHO). Experts say exposure to this micro-pollutant over the long term can even cause lung cancer.
Why does this story matter?
The Centre's air quality panel instructed the re-implementation of stage III curbs of the Graded Response Action Plan (GRAP) in Delhi-NCR, including banning demolition work and non-essential construction amid the recent spike in pollution levels due to foggy weather.
During a review meeting, the sub-Committee on GRAP claimed that the AQI would further worsen in the coming days due to unfavorable weather conditions.
Air quality in Delhi-NCR in dark red zones: CAQM
The Commission for Air Quality Management (CAQM) revealed the air quality in parts of Delhi-NCR is already in dark red zones and is likely to dip further over the coming days. Furthermore, it also banned the use of coal and asked industries to switch to cleaner fuels, even though other dirty fuels like metallurgical coke and biomass are permitted in Delhi.
Delhi reports 406 AQI on Saturday morning
As per latest reports, Delhi recorded an air quality index of 406 on Saturday morning. The national capital's 24-hour average AQI stood at 400 on Friday evening, just a notch under the severe category.
Delhi's AQI last turned 'severe' on December 19
In its January 4 order, the central government's air quality panel dropped its strict restrictions, citing the forecast by the Indian Institute of Tropical Meteorology and the India Meteorological Department. Experts say banning coal is a move in the right direction, but the government needs to look at a regional clean-up of the capital. On December 19, Delhi's AQI last touched the 'severe' zone.
Different categories of AQI
According to the Central Pollution Control Board (CPCB), an AQI between 0 to 50 is deemed 'good.' An AQI of 51 to 100 and 101 to 2022 is considered 'satisfactory' and 'moderate,' respectively. Meanwhile, an 201-300 AQI is 'poor,' and 301 to 400 is 'very poor.' Notably, anything above 400 AQI is considered 'severe' by CPCB.