'Jhund' review: Nagraj Manjule presents football story through prejudices, differences
'Jhund' review: Nagraj Manjule presents football story through prejudices, differences
Written by
Shreya Mukherjee
Mar 05, 2022, 08:06 pm
2 min read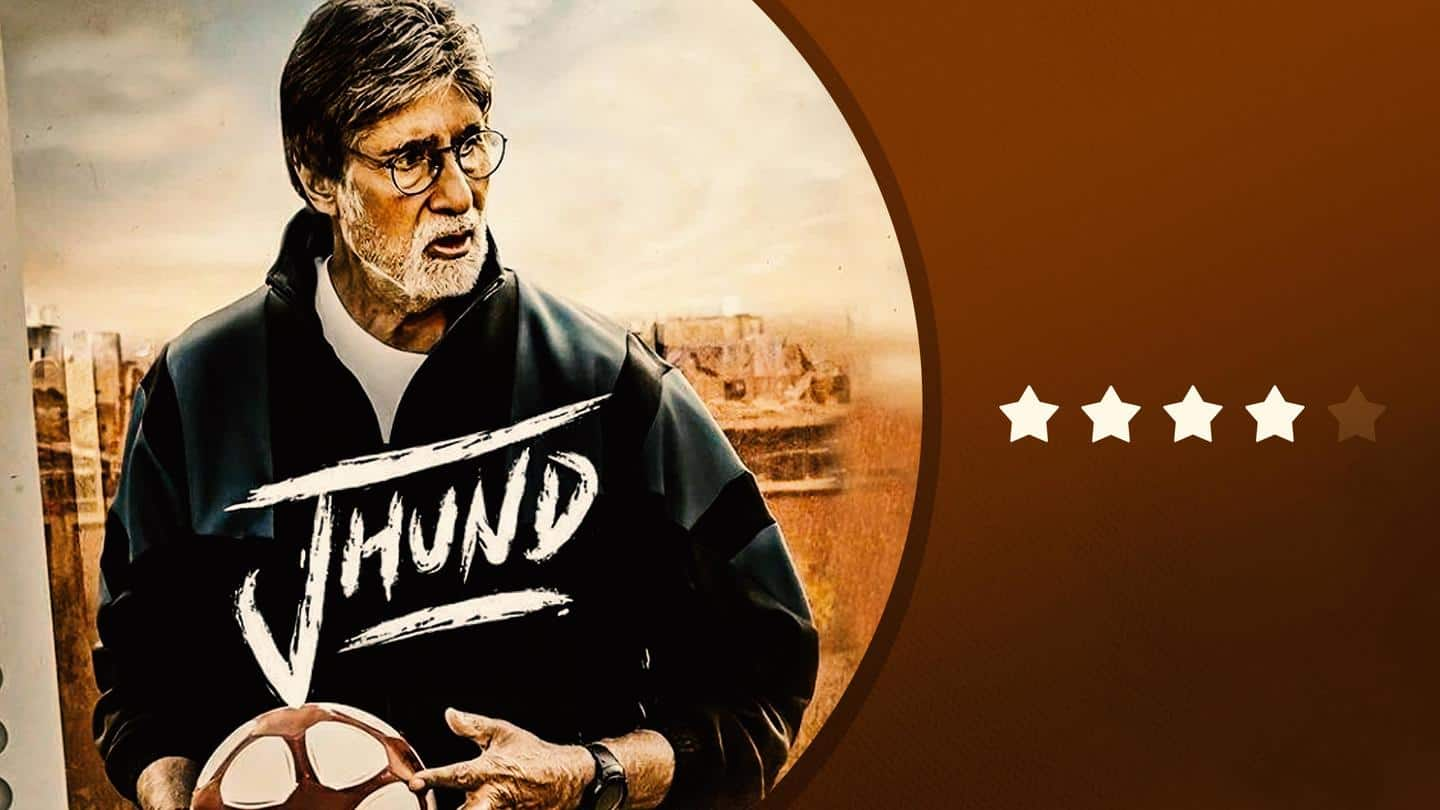 Bollywood largely sanitizes its movies, rarely going deep into the intricacies of the caste system but Nagraj Popatrao Manjule—in his first full-length Hindi film Jhund—attempts to shed light on that. Based on soccer coach/NGO Slum Soccer founder Vijay Barse, Jhund features Amitabh Bachchan as a college coach who reforms slum-dwellers' lives by encouraging them to play football. However, there are some flaws. We review.
This is the plot of the movie
Vijay Borade (Bachchan), an inspired version of Vijay Barse, is nearing retirement at the college where he teaches. One day, he happens to witness some kids in the slum—adjacent to his college—playing with an empty barrel. Recognizing their raw talent, he urges the children to play football in exchange for Rs. 500. Slowly, the kids ditch their (often) criminal ways to enjoy the game.
Only one member from the 'bunch' gets prominence
Manjule focuses on the lives of these kids, who have a lot to struggle against and for whom, spiraling back into addiction or crimes is highly probable. Similarly, playing football and later competing in an international tournament is also accompanied by complexities. Despite showing all this, Jhund treats the bunch (all debutants) as a group, with only one—Don (played by Ankush Gedam)—getting the prominence.
Gedam is a star, deserves to lead mainstream films
Jhund is an out-and-out Big B extravaganza, and Manjule's fanboy peeps through some corners during the tedious three-hour-long runtime. And, the veteran delivers an able performance, leading it all with controlled zeal. Gedam and the other members of the "Gaddi Godam" football team are extremely endearing and natural. Also, Rajiya Kazi (Raziya) and Rinku Rajguru (Manika) make most of the small sidetracks they get.
Sudhakar Reddy Yakkanti's cinematography deserves praise
Ajay-Atul's music score is energizing but some numbers seem unnecessary, dragging the runtime. Sudhakar Reddy Yakkanti's cinematography is profound with many distinctive and interpretative shots. The first half is engaging and fun; the narrative does lose focus later but remains heartwarming throughout. Manjule's treatment of the eve-teasing nature of the slum boys as "innocent" is problematic, too. Verdict: Jhund gets 4/5 for the effort.