Varun Sood posts cryptic tweet after Divya Agarwal's engagement announcement
Varun Sood posts cryptic tweet after Divya Agarwal's engagement announcement
Dec 06, 2022, 06:52 pm
2 min read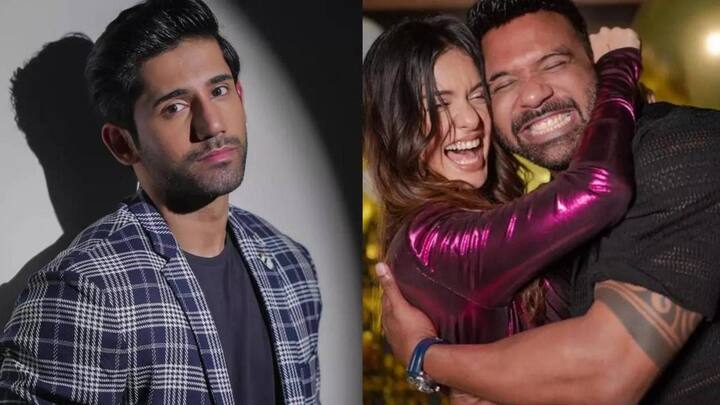 VJ and actor Varun Sood shared a cryptic tweet after reality TV star and actor Divya Agarwal announced her engagement with Apurva Padgaonkar. Sood and Agarwal were dating for a long time and were loved by their fans. They were social media influencers and fans loved the duo's chemistry. They both rose to fame via television reality shows—Sood via Roadies and Agarwal via Splitsvilla.
Why does this story matter?
Reality TV shows garner a lot of traction and is a huge source of entertainment for many.
In India, most of the formats, from Indian Idol to India's Got Talent, are inspired by American shows. Roadies was the first Indian format show developed by Raghu Ram.
He later developed Splitsvilla too and it produced new talents like Ayushmann Khurrana and Prince Narula in Bollywood.
Sood's tweet and Agarwal's announcement
Agarwal announced her engagement with engineer-turned-businessman Apurva Padgaonkar and posted a series of photographs on Instagram. Sood posted a single emoji which is generally used to signify calmness, peace, contentment, and relief. Fans supported him, showered him with love, and speculated that it was his reaction to the announcement. The duo was dating and reportedly broke up nine months back.
'The faith we had about you two getting reunited...'
Fans told Sood that they felt broken by the news of Agarwal's engagement. A user wrote, "And everything ends here. The faith we had about you 2 getting reunited, our most favorite fairy tale got over officially now, I am so broken that I can't even think of anything good properly." Another user told Sood that he deserves better people in life.
Sood-Agarwal's debacle with Priyank Sharma-Benafsha Soonawalla
Earlier, the duo was part of social media debacle with two other Roadies contestants Priyank Sharma and Benafsha Soonawalla. Sood and Soonawalla were dating and Agarwal and Sharma were dating. There was a lot of mudslinging between the four and war-of-words happened on social media. Later Sood and Agarwal started dating and then Sharma and Soonawalla started dating each other.