Yoga recognized as competitive sport by government
Yoga recognized as competitive sport by government
Dec 18, 2020, 05:24 pm
3 min read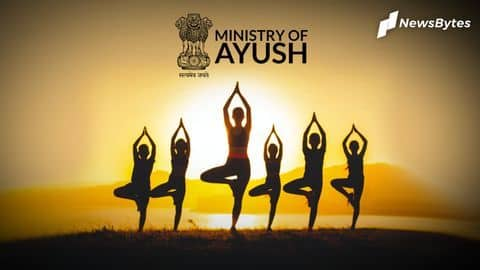 The government has recognized yoga as a competitive sport, setting the stage for the inclusion of the ancient art in tournaments held across India. To give a boost to yoga, sporting leagues, similar to the Indian Super League could also be organized. Eventually, the government wants yogasanas to be included in the Olympic Games, a report in HT said. Here's more.
The aim is to spread awareness about yoga
As per the report, AYUSH and Sports ministries are working together to achieve the goal. They hope a competitive league will spread awareness about yoga, its benefits, and its connection with spirituality among youth. "Yoga has already been popular enough so the next step was to recognize it as a competitive sport," Kiren Rijiju, Minister of State for Youth Affairs and Sports said.
A championship could be organized in February
Rijiju said after this new recognition, yoga "will be made a part of Prime Minister Narendra Modi's Khelo India initiative that will ensure states will work toward organizing sports events including for yogasana in an organized manner, like it happens for other sports." A national-level traditional yogasana championship has been proposed, he said, adding that it could be held in February 2021.
Earlier, National Yogasana Sport Federation of India was formed
While the announcement is sudden, consultations to recognize yoga as a competitive sport were underway for the past three-four years. In fact, in August, the National Yogasana Sport Federation of India (NYSFI) was also established. Speaking on the decision, AYUSH Ministry's Secretary Vaidya Rajesh Kotecha revealed that the Sports Ministry recognized the federation formally just last month.
NYSFI will also get financial support from Sports Ministry
Further, Rjiju informed like other sports federations in the country, NYSFI will also be eligible for financial aid from the ministry. The money will be spent on training and also readying a calendar, detailing what NYSFI wants to organize in the future. Moreover, a document consisting of rules, regulations, and syllabus for competitions has also been prepared.
Different forms of yoga will be included in competitions
The events that the government intends to organize will include traditional yogasana, artistic yogasana, rhythmic yogasana, free flow (group) yogasana, individual all-round championship as well as team championship. Training of coaches, referees, judges, and directors of these contests is also a part of the plan. "Sports Authority of India is trying to recruit more retired Indian sportspersons for the purpose of coaching," said Rijiju.