Cyclone Fani: Living without electricity, residents protest on streets
Cyclone Fani: Living without electricity, residents protest on streets
May 11, 2019, 12:22 pm
3 min read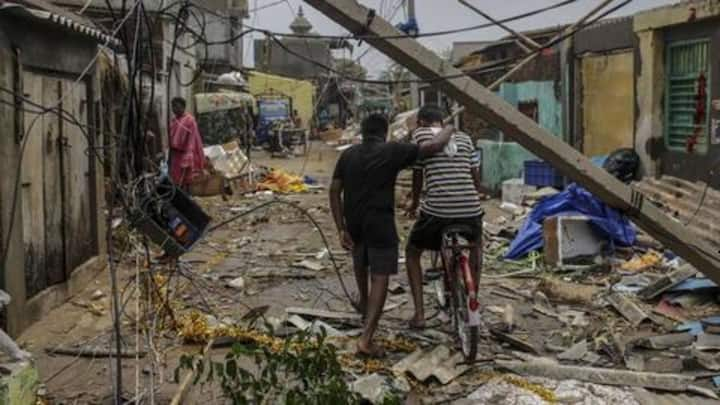 On May 3, Cyclone Fani made landfall in Odisha and left a trail of destruction. As the coastal state is struggling to pick up its pieces, residents are losing cool, and naturally so. Residents have been living without electricity since the landfall day. On Friday, they took to streets to protest against authorities. The intense heat wave has made their survival difficult. Is anyone listening?
Some 1.56 lakh electric poles have been uprooted
The intense cyclonic storm uprooted nearly 1.56 lakh electric poles in the capital alone, throwing normal life out of gear. In capital Bhubaneshwar, there are about 4.5 lakh electricity consumers. Only half of them have been able to get power back. Officials are hoping the rest of the city will get electricity by Sunday, but residents are not willing to wait.
Electricity board's employees are scared, have sought police protection
According to police, a large number of people staged a protest at Garage Chhak in Bhubaneshwar. Separately, some people tried to attack an office of Central Electricity Supply Utility (CSEU), forcing officials to lock themselves inside. Similar protests broke out at other offices of CSEU. Police personnel have been deployed at prominent offices. An officer named NK Sahu said the consequences have scared them.
Top official said restoration work is picking up
Commenting on the situation, Chief Secretary AP Padhi, said they have prepared a roadmap for electrification. "With additional manpower from other states available, restoration work is picking up," he added. Puri, the worst-hit town is expected to get power by Sunday, May 12. Information and Public Relations Secretary Sanjay Singh also hoped that normal electricity will return soon.
Meanwhile, work in telecom sector hasn't picked up
Notably, work in the telecom sector hasn't been able to pick up pace. Singh revealed only 14% of mobile towers and other infrastructures weren't affected by Fani. Though landline phones are functioning, they haven't been enough. Hence, Cell on Wheels (COWs) have been deployed at various spots. COWs provide temporary service through vehicles like cars, trucks, etc.
Banks and insurance companies are willing to bend their rules
Meanwhile, State Level Banker's Committee (SLBC) has agreed to reschedule loan payment dates. Cyclone victims and hotel industry can get fresh loans as well. Similarly, insurance companies have decided to simplify the procedure for staking a claim. The calamity affected more than 1.5 crore people in 14 districts. Some 5.08 lakh houses were destroyed and 41 people lost their lives.
Fani destroyed Bhubaneshwar's green cover as well
The green cover of Bhubaneshwar also vanished in the cyclone. As per reports, over one million trees fell in the city. "We were in tears seeing these trees lying on the roads. We raised them like our kids. We are now working hard to rehabilitate the remaining trees," said divisional forest officer Ashok Mishra. No one really knows the extent of the environmental damage!