Padma Awards: ORS pioneer Mahalanabis, Mulayam Singh get Padma Vibhushan
Padma Awards: ORS pioneer Mahalanabis, Mulayam Singh get Padma Vibhushan
Jan 25, 2023, 10:32 pm
3 min read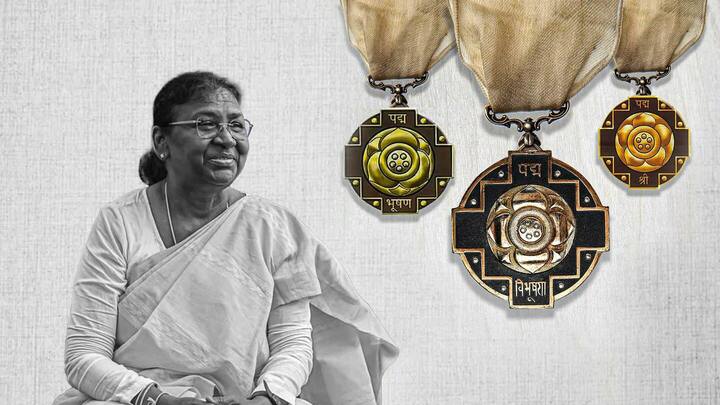 The central government on Wednesday released a list of 106 Padma awards including six Padma Vibhushan, nine Padma Bhushan, and 91 Padma Shri. Dilip Mahalanabis, who pioneered the lifesaving Oral Rehydration Solution (ORS), was honored with Padma Vibhushan—India's second-highest civilian award. Mulayam Singh, who passed away in October last year, has also been awarded Padma Vibhushan. Here are more details.
Why does this story matter?
Every year, the Padma Awards are conferred in various disciplines such as art, science and engineering, trade and industry, medicine, literature and education, sports, etc.
They are divided into three categories: the Padam Vibhushan, the Padma Bhushan, and the Padma Shri, which are the second-highest, the third-highest, and the fourth-highest civilian honors in India, respectively.
The highest civilian honor is the Bharat Ratna.
Social workers, snake catchers among Padma Shri awardees 
According to the list, 91 persons have been given Padma Shri awards who are mostly "unsung" and "little known" heroes in their field and profession. These include VP Appukutta Poduval, a Gandhian and social worker; professional snake catchers Vadivel Gopal and Masi Sadaiyan; Tula Ram Upreti, a 98-year-old organic farmer from Sikkim, among others. Notably, Padma Shri is India's fourth highest civilian honor.
Who is Dilip Mahalanabis?
Mahalanabis is credited for popularizing Oral Rehydration Solutions (ORS), which has saved half a million lives worldwide. According to statistics, ORS helped to reduce 93% of fatalities caused by diarrhea, cholera, and dehydration, particularly in babies and children. During the 1971 Bangladesh Liberation War, Mahalanbis proved the efficiency of ORS while working in refugee camps.
SP patriarch Mulayam Singh among the Padma Vibhushan awardees
Apart from Mahalanabis, five other persons have also been conferred with the Padma Vibhushan award. Among them are Balkrishna Doshi (posthumous) in architecture, Zakir Hussain in art, SM Krishna in Public Affairs, Srinivas Varadhan in Science and Engineering, and Mulayam Singh Yadav in Public Affairs.
Other awardees on the list
Sudha Murty, an educator; Kumar Mangalam Birla, a businessman are among the nine awardees of Padma Bhushan. Rakesh Radheshyam Jhunjhunwala (posthumous), RRR movie composer MM Keeravaani, and actor Raveena Ravi Tandon are among the 91 awardees of Padma Shri. These awards will be presented by President Droupadi Murmu at ceremonial functions to be held at the Rashtrapati Bhawan, usually around March and April.
Who decides Padma awards?
All nominations received for Padma Awards are placed before the Padma Awards Committee, which is constituted by the Prime Minister every year. The committee is headed by the Cabinet Secretary and includes Home Secretary, Secretary to the President, and four to six eminent persons as members. The recommendations of the committee are submitted to the Prime Minister and the President of India for approval.
For 2023, the President has approved conferment of 106 Padma Awards incl 3 duo cases. The list comprises 6 Padma Vibhushan, 9 Padma Bhushan 91 Padma Shri. 19 awardees are women the list also includes 2 persons from category of Foreigners/NRI/PIO/OCI and 7 Posthumous awardees pic.twitter.com/Gl4t6NGSzs

— ANI (@ANI) January 25, 2023