Republic Day: How are foreign dignitaries selected as chief guests
Republic Day: How are foreign dignitaries selected as chief guests
Jan 26, 2023, 07:26 pm
2 min read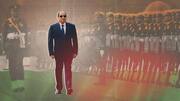 India celebrated its 74th Republic Day today in Delhi with Egypt President Abdel Fattah El-Sisi as the chief guest. The ceremonial parade was kicked off by a marching contingent of 144 soldiers, representing the main wings of the Egyptian Armed Forces for the first time. Let's take a look at how the chief guest for Republic Day is decided.
Why does this story matter?
On this day in 1950, the Indian Constitution came into force two months after being adopted by the Constituent Assembly.
The Republic of India, which is a union of states, is governed by the Constitution which provides for a Parliamentary form of government with a federal structure.
The guest for the Republic Day Parade is usually the head of state of another country.
Potential guests are shortlisted based on several factors
The government zeroes in on potential guests for the event after taking several factors into consideration. This process begins around six months before Republic Day. The factors range from the nature of the bilateral relationship between India and the concerned country to economic, political, and commercial relations, prominence in regional associations, military cooperation, or long-standing geopolitical alliance.
Concerned dignitary's availability is ascertained
After shortlisting potential guests, the Ministry of External Affairs (MEA) seeks approval from the Prime Minister and President for the names. If approved, the Indian ambassadors in the corresponding country check the dignitaries' availability for the event. After receiving the go-ahead, the MEA's territorial divisions work on the talks and agreements, while the Chief of Protocol works on the program details and logistics.
This Republic Day saw the 4th foreign marching contingent
In 2016, the French Army became the first of four foreign contingents in Republic Day Parades since Independence. Former French President Francois Hollande was the chief guest. United Arab Emirates (UAE) Crown Prince Mohammed bin Zayed Al-Nahyan followed in 2017. Due to COVID-19, there was no foreign chief guest in 2021 and 2022. The years 1952, 1953, and 1966 had no foreign chief guest.