Sharma is single-handedly responsible for what's happening in India: SC
Sharma is single-handedly responsible for what's happening in India: SC
Written by
Srishty Choudhury
Jul 01, 2022, 01:36 pm
4 min read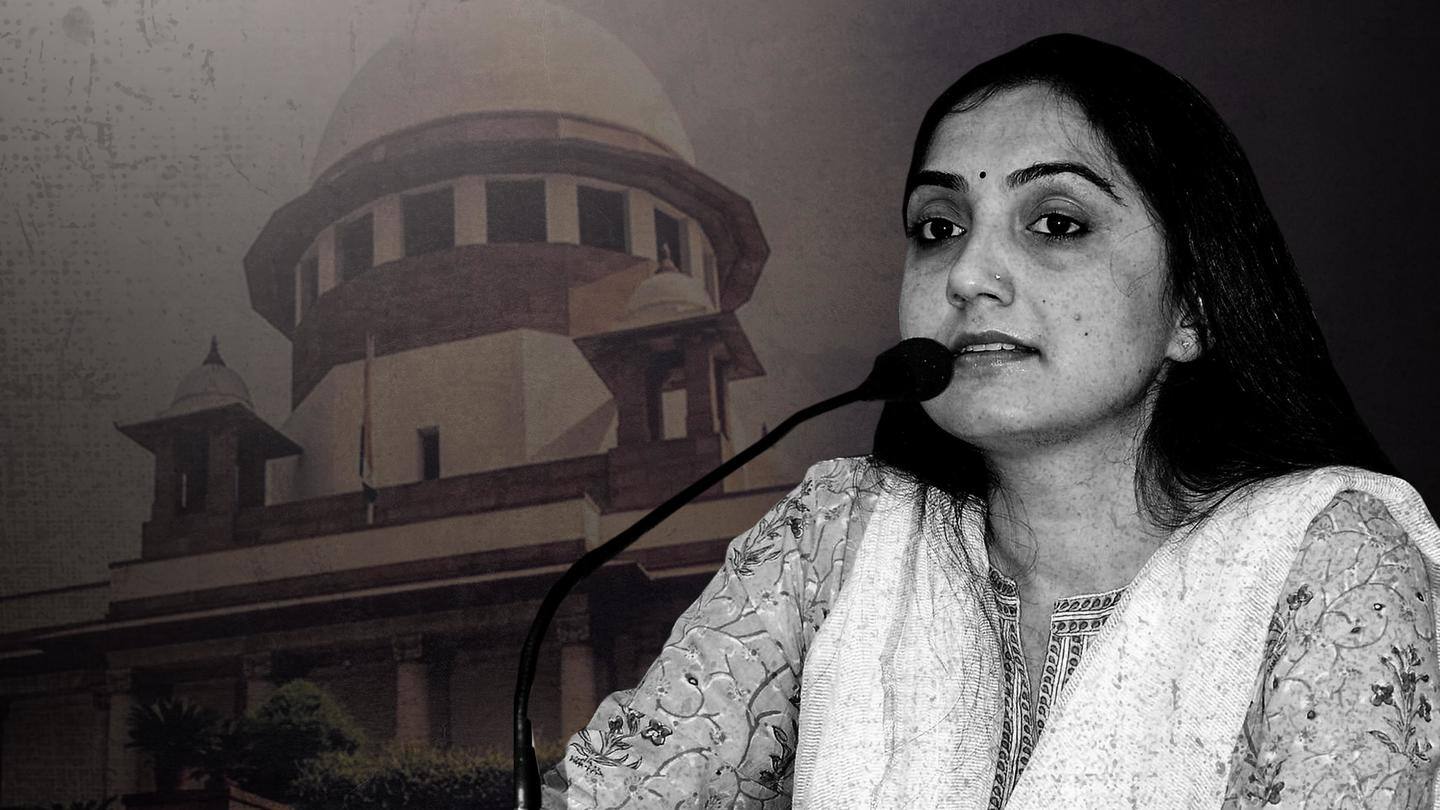 The Supreme Court today slammed former Bharatiya Janata Party (BJP) spokesperson Nupur Sharma, who moved the SC seeking transfer of all the FIRs against her to Delhi. She was reprimanded for threatening the "security of the nation" by making a statement against Prophet Muhammad on TV. The SC also refused to club the FIRs, prompting her to withdraw her plea from the top court.
Why does this story matter?
BJP's now-suspended spokesperson Sharma had made controversial remarks about Prophet and his wife during a TV channel debate on the Gyanvapi Mosque issue.
Her remarks sparked uproar and elicited responses from religious organizations, political parties, and Gulf countries, prompting the BJP to suspend her.
A series of hashtags began trending on social media and demands to boycott Indian goods also gained steam.
Without mincing words, a vacation bench comprising Justices Surya Kant and JB Pardiwala said that it was not keen on entertaining her plea. "When you lodge a complaint against someone that person is arrested but nobody dares to touch you...That shows your clout," said the bench. Sharma had contended that she was constantly facing life threats from unsocial elements despite withdrawing her comments.
When senior advocate Maninder Singh, appearing for Sharma, told the SC that she had apologized for the remarks and withdrew her comments, the top court said that she should have gone to the TV and apologized to the nation. The SC also said that Sharma was "single-handedly responsible for what is happening in the country (referring to the communal tensions)."
'Being a spokesperson doesn't give you license to say things'
When Singh said that there was provocation during the debate, Justice Kant said, "If you are a spokesperson of a party, it is not a license to say things like this. If there is a misuse of the debate...she should have done was to file an FIR against the anchor." The SC bench added that the channel was promoting an agenda.
Justice Kant further said that though she was incited, "the way she said all this and later says she was a lawyer it is shameful." The bench also said her remarks showed her "obstinate and arrogant character," adding, "She thinks she has back up of power and can make any statement without respect to the law of the land."
When Singh talked about protecting journalistic freedom, the SC bench said that Sharma couldn't be put on the pedestal of a journalist. "When she goes and lambasts on a TV debate and makes irresponsible statements without thinking of the ramifications and consequences that it will have on the fabric of society," the bench said. The SC also blamed her outburst for the Udaipur incident.
Udaipur tailor brutally killed for supporting Sharma
Kanhaiya Lal, a tailor in Udaipur, was brutally killed by two assailants, Riyaz Akhtari and Ghaus Mohammad. They slit Lal's throat and posted a video on social media claiming to avenge an insult to Islam. Lal had apparently supported Sharma on social media over her controversial remarks against the Prophet. In another video, they also threatened Prime Minister Narendra Modi.
What exactly did Sharma say?
During a debate on the Gyanvapi Mosque row on a TV channel, Sharma stated that because Muslims were insulting the Hindu faith by calling the unearthed Shivling a fountain, certain aspects in their religious scriptures may be mocked as well. She then made a mention of Prophet Muhammad's marriage, too. Her remarks sparked uproar and elicited responses from religious organizations and political parties.