BJP suspends spokesperson Nupur Sharma, Naveen Jindal over 'Prophet' remark
BJP suspends spokesperson Nupur Sharma, Naveen Jindal over 'Prophet' remark
Jun 05, 2022, 04:20 pm
3 min read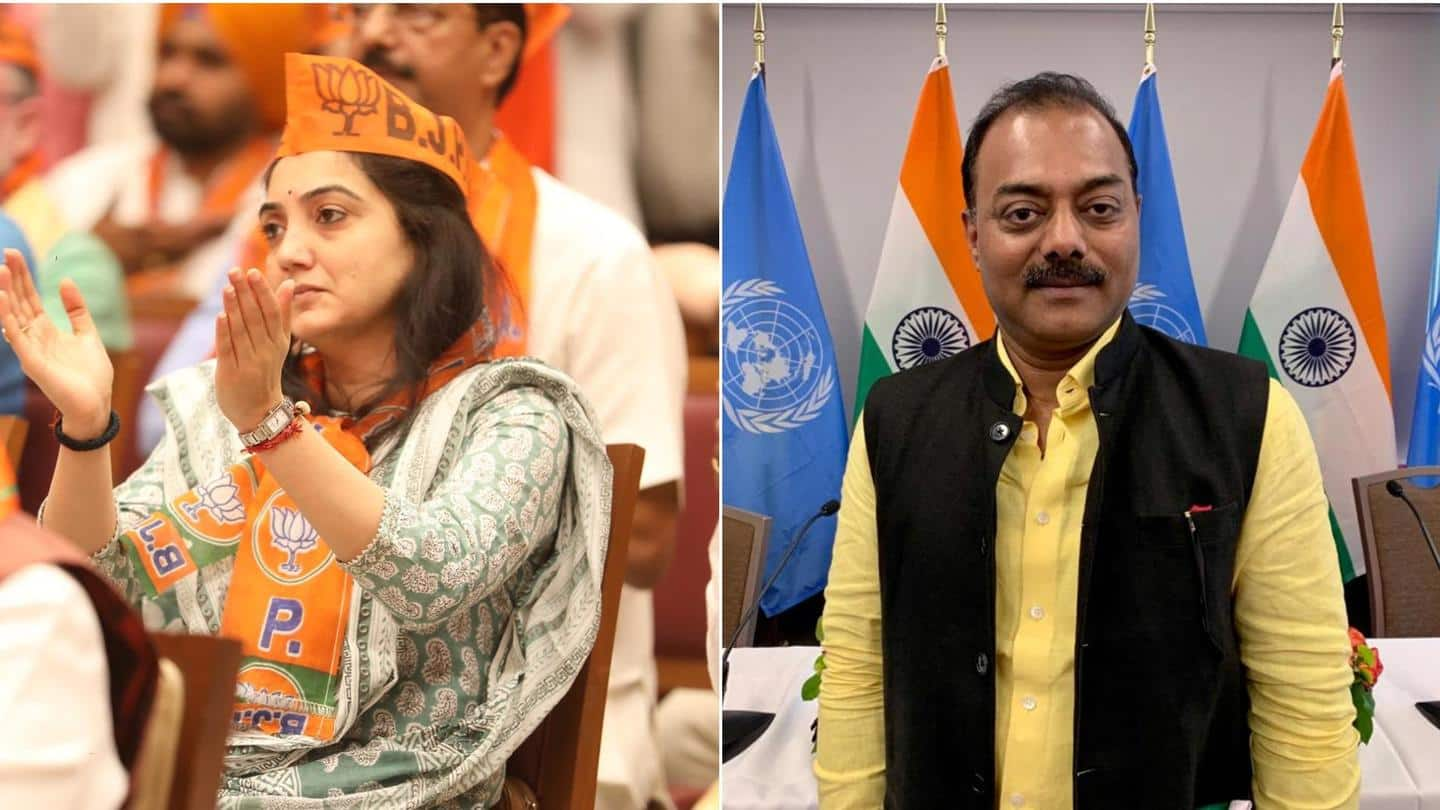 Facing criticism from various quarters, the Bharatiya Janata Party (BJP) on Sunday suspended its spokesperson Nupur Sharma for allegedly making derogatory remarks about Prophet Muhammad. It has also suspended its Delhi unit's media in-charge, Naveen Kumar Jindal. Earlier, BJP also issued a statement clarifying its stand on the issue. "BJP is strictly against any ideology that insults any sect or religion," the statement read.
Why does this story matter?
The BJP's clarification and Sharma's suspension occurred on the same day when Arab nations' outrage over the remark exploded on social media with trending Twitter hashtags and calls to boycott Indian goods.
Notably, Sharma had also been named in several police cases for her remarks in Maharashtra and Telangana.
However, she has denied any wrongdoing and even claimed to have received death threats.
What exactly did Sharma say?
During a recent debate on the Gyanvapi Mosque row on a TV channel, Sharma stated that because Muslims were insulting the Hindu faith by calling the unearthed Shivling a fountain, certain aspects in their religious scriptures may be mocked as well. She then made a mention of Prophet Muhammad's marriage, too. Her remarks sparked uproar and elicited responses from religious organizations and political parties.
Reports of Indians, who represent a large percentage of the workforce in the Gulf countries, being laid off by their Arab bosses began to surface on the internet, along with reports of many Gulf superstores removing Indian products. The hashtag "Boycott India" started trending on Twitter. In fact, the Grand Mufti of Oman, as well as popular Twitter accounts, have called for a boycott.
The BJP issued a clarification on Sunday, briefly before announcing Sharma's suspension, asserting it respects all religions and strongly condemns insults to any religious figures. According to a press release signed by Arun Singh, the BJP's national general secretary, "The BJP is strongly against any ideology which insults or demeans any sect or religion. The BJP doesn't promote such people or philosophy."
Details of BJP's clarification over Sharma's controversial remarks
"During the thousands of years of the history of India, every religion has blossomed and flourished. The BJP respects all religions," BJP stated. "India's Constitution gives the right to every citizen to practice any religion...and to honor and respect every religion," it further said. "As India celebrates the 75th year of its independence, we are committed to making India a great country," it added.
Kanpur reports communal clashes after Sharma's remarks
In response to Sharma's controversial remarks, communal clashes were reported in Kanpur on Friday over calls to shut down markets in which at least 40 people were injured, including 20 police officers. The UP Police made 36 arrests and filed charges against 1,500 people. Notably, PM Narendra Modi and President Ram Nath Kovind were attending an event 80km away from where the clashes erupted.
Arab world's reaction must have really stung: Omar Abdullah
"The reaction in the Arab world must have really stung," tweeted former Jammu and Kashmir Chief Minister Omar Abdullah in response to Sharma's suspension from the BJP. Meanwhile, PM Modi's silence was also reportedly criticized by several users amid the row on Twitter.