Twin blasts rock J&K's Narwal, leave at least 7 injured
Twin blasts rock J&K's Narwal, leave at least 7 injured
Jan 21, 2023, 03:08 pm
2 min read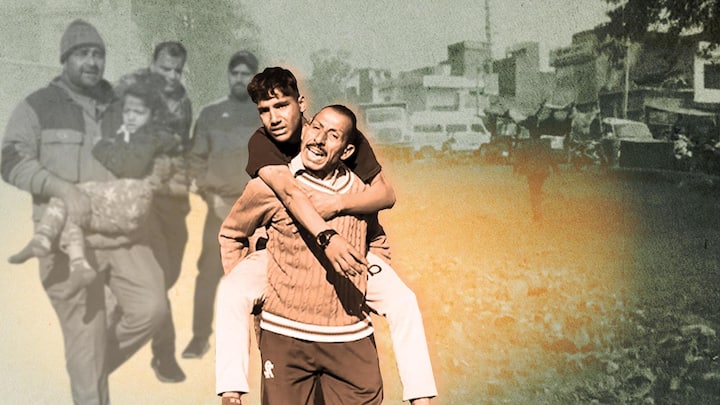 At least seven individuals were injured in two separate explosions incidents on Saturday in the Narwal area of Jammu and Kashmir. The entire blast area has since been cordoned off, a senior police officer told news agency ANI. As per the cops, the seven people injured in the two back-to-back blasts were immediately rushed to a hospital nearby for treatment.
Why does this story matter?
Jammu and Kashmir have been hot spots for terror activities for a while now.
The Saturday morning explosions come just a few days before Republic Day under tight security measures taken by the security forces all over the Union Territory.
The explosions also occurred just a couple of days before Congress's Bharat Jodo Yatra reached Jammu.
First blast happened at Yard No. 7 in Narwal: Report
According to initial reports, the first blasts occurred at around 10:45 am near parked vehicles in Narwal's Yard No. 7. Another blast happened just fifteen minutes later and littered the area with damaged parts and garbage, per the news outlet The Hindu. As per officials, an expert team also arrived at the blast site to assess the nature of the explosions.
Injured individuals in blasts mostly mechanics
Mukesh Singh, Jammu Zone Additional Director General of Police (ADGP), told the media: "The injured have been shifted to hospital. The area has been surrounded for searches." Reportedly, most of the individuals injured in the blast are mechanics, and one is critically wounded. An eyewitness told Times Now that a vehicle came in for repair and had exploded, injuring almost half-a-dozen people.
Visuals from the blast site
A Mahindra Bolero reportedly used in the first blast: Sources
The individuals who were injured in the blast have been identified as Sushil Kumar (26), Amit Kumar (40), Suhail Iqbal (35), Rajesh Kumar (35), Vinod Kumar (52), Arun Kumar, and Vishav Pratap (25). Sources have also revealed that a Mahindra Bolero was reportedly used in the first explosion. Meanwhile, the seven injured who were hospitalized with splinter injuries are "stable" now.
Jammu and Kashmir Police's anti-terror operations in 2022
During Jammu and Kashmir Police's year-end news conference, it called 2022 "a very successful year" regarding anti-terror operations in Kashmir Valley. It also claimed that more than 90 operations were launched, and 172 terrorists were killed, that included 42 foreign operatives. The police also revealed that 100 new terrorists were recruited in 2022, citing that this recruitment went down by 37% from 2021.