Home decor: 5 alternatives to painting your walls
Home decor: 5 alternatives to painting your walls
Jan 05, 2023, 01:52 pm
3 min read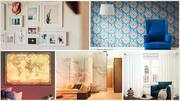 While painting is by far the most common decorative treatment for walls, it is not the only one. There are myriad innovative ways to spruce up your walls without ever having to spill a drop of paint. Get ready to turn your boring walls into fancy artwork, because we have curated a list of five wall decor ideas which doesn't require paint.
Showcase your creativity by curating a gallery wall
Gallery walls are always a great idea. Not only are they click-worthy but also a great way to showcase your photography skills. You can put up photos of your family, friends, and beautiful memories from your trips. Or, you can choose to display your most prized artwork. It's your choice. Go ahead and create a personalized mini museum of your own.
Keep changing the semblance of your space with wallpaper
Wallpapers allow you to enrich your walls with intricate designs and patterns that otherwise would be difficult and expensive to paint. Alternatively, you can go for temporary wallpapers if you prefer to keep changing the appearance of your space every now and then. You can peel off and re-stick a new wallpaper to give your room a fresh splash of color.
Chronicle your travels with a personalized map
Maps are a great way to accessorize walls. Put up a large world map that covers your entire wall and chronicle the places you have visited or plan to visit by pinning them. You can get a personalized map of a city where you live, or of a state, country, or the world in just about any color palette you wish.
Wall tiles are generally used on bathroom and kitchen walls, but these are not the only places where they belong. You can use tiles to create a focal point in your living room or whichever area sees more traffic. Painted walls can get smeared or scratched, but ceramic tiles can handle a bit of wear and tear, and they are super easy to clean.
Create an accent wall with fabrics 
Create an accent wall with wall-length curtains if you have oversized windows with a scenic view. For regular walls, you can mount a tapestry or a carpet above the bed or dining room to up the aesthetic element of your space. Choose heavier and dark-colored fabrics to add warmth to your space during chilly weather. Pick light-colored thin fabrics for the summer season.