How to make the most of your time in Jaffna
How to make the most of your time in Jaffna
Feb 02, 2023, 06:51 pm
3 min read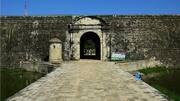 Are you looking for a unique and exciting holiday destination? Then come to Jaffna in Sri Lanka! Rich with history, culture, and stunning natural beauty, Jaffna has something for every traveler. From exploring the ancient ruins of the Jaffna fort to sampling the diverse and delicious cuisine of the local markets, you're sure to have a memorable experience.
Explore the ruins of the ancient Jaffna Fort
Explore the ruins of the Jaffna Fort; this historic site is a fascinating insight into the region's culture and history. Take a guided tour to discover its secrets and learn about the power of the rulers who inhabited the fort. This way you can gain a greater appreciation of the area's rich heritage. Stroll around and picture yourself living here during its heyday.
Visit the unique Jaffna Library and Cultural Museum
The Jaffna Library and Cultural Museum is home to thousands of books, manuscripts, and other works of incredible literary and cultural value. It is the largest library in Sri Lanka and has been a symbol of knowledge and cultural heritage for centuries. A treasure trove of knowledge, its wide collection will broaden your horizons and give you an in-depth understanding of this beautiful country.
Take a boat ride to the Nainativu Island
The beautiful island of Nainativu offers breathtaking views of the Indian Ocean and the pristine beaches will make your trip truly memorable. You can explore the ancient ruins, visit the temples, and take a dip in the crystal-clear waters. You can also participate in a variety of water sports activities. So hurry and book your boat ticket to Nainativu Island for a fantastic adventure!
Visit the local markets and sample the delicious cuisine
Any travel trip remains incomplete without visiting the local markets of the city you are in. You can explore the vibrant and colorful markets and try the delicious food that the locals enjoy. From fresh fish to exotic fruits, there is always something to tantalize your taste buds. With all the different flavors and textures, it is an experience you won't soon forget.
Enjoy the beautiful beaches of the Jaffna Peninsula
The Jaffna Peninsula is incredibly serene, with miles of stunning white sand stretching along its coastline. Whether you're looking for a romantic getaway or a chance to relax and soak in the natural beauty of the area, the Jaffna Peninsula is the perfect destination. With miles of pristine white sand and crystal clear blue waters, the place is popular among locals and tourists alike.