India true friend and great power, says Putin in Delhi
India true friend and great power, says Putin in Delhi
Edited by
Siddhant Pandey
Dec 06, 2021, 04:09 pm
3 min read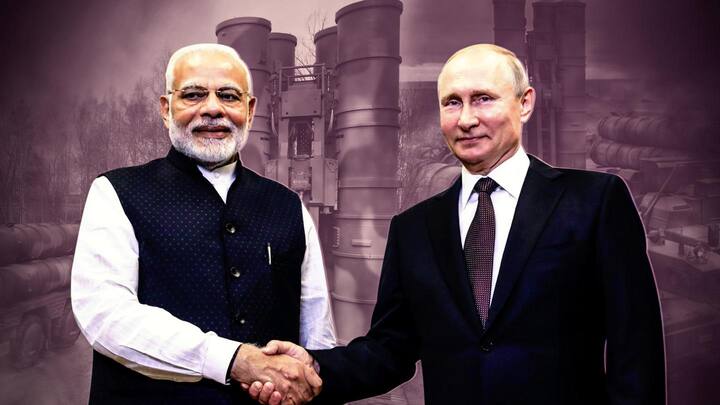 Prime Minister Narendra Modi met with Russian counterpart Vladimir Putin for the 21st India-Russia Annual Summit. During their conversation, Modi said that India-Russia relations had not changed despite problems introduced due to COVID-19. "Our special and privileged strategic partnership continues to become stronger," said Modi. Putin also described India as a "big power," a "friendly nation," and a "time-tested friend" to Moscow.
Monday's summit highlights India and Russia's joint commitment toward expanding cooperation in defense, trade and investment, energy, and technology.
Modi and Putin met face-to-face for the first time since the BRICS summit in 2019.
Earlier, the two sides have coordinated on terrorism threats and terror financing.
Putin's visit comes despite growing international travel restrictions with the emergence of a new coronavirus strain called Omicron.
Modi praises 'constant' India-Russia ties
Modi said the two nations coordinated well during the pandemic and also credited Putin for the three-decade-long India-Russia partnership. He said the two nations need to encourage their business leaders to further their economic partnership. India-Russia ties have been constant despite the ever-evolving geopolitics and serve as a "unique and reliable model" of interstate friendship, he said.
Putin celebrates bilateral synergy
Putin said bilateral trade had dropped by 17% last year, but it picked up by 30% in the first nine months of 2021. India and Russia are working on "very promising sectors" including energy, space, military, and technology, he said. He called for further militaristic cooperation, noting that both countries have held joint exercises in each others' territory.
Naturally concerned about Afghanistan: Putin
"We are naturally concerned about everything related to terrorism, terror funding, and drug trafficking and that is why we are naturally concerned about the situation in Afghanistan," Putin had reportedly said in his opening remarks, ahead of the bilateral talks.
Earlier, Indian and Russian ministers held talks
Earlier in the day, Jaishankar, Lavrov along with defense ministers Rajnath Singh (India) and Sergei Shoigu (Russia) held 2+2 ministerial dialogue. The leaders met at the Sushma Swaraj bhawan and discussed mutual political and defense issues. Jaishankar and Lavrov had also held an independent meeting earlier Monday. The two foreign ministers had spoken of bilateral trust and confidence ahead of the meet.
What happened during the ministers' talks?
Singh raised with Russia the issues of COVID-19 and exceptional militarization in the neighborhood. Notably, he also mentioned "unprovoked aggression on our northern border since early summer of 2020." He is understood to have been talking about reported transgressions by China along the Line of Actual Control (LAC). Jaishankar also expressed concern over terrorism, increased radicalization, and the Afghanistan crisis.
India, Russia sign 4 agreements
India and Russia signed a deal agreeing on military-technical cooperation from 2021 to 2031 and a protocol for the 20th IRIGC-M&MTC. The third agreement was on cooperation in the sphere of small arms manufacture for the Kalashnikov family of small arms. The last agreement was on the production of 6,01,427 AK-203 assault rifles (7.63X39mm) through an Indo-Russia Rifles Private Limited.