'Ready for Mahagathbandhan 2.0': Nitish Kumar and Tejashwi Yadav
'Ready for Mahagathbandhan 2.0': Nitish Kumar and Tejashwi Yadav
Written by
Priyali Dhingra
Aug 09, 2022, 06:04 pm
3 min read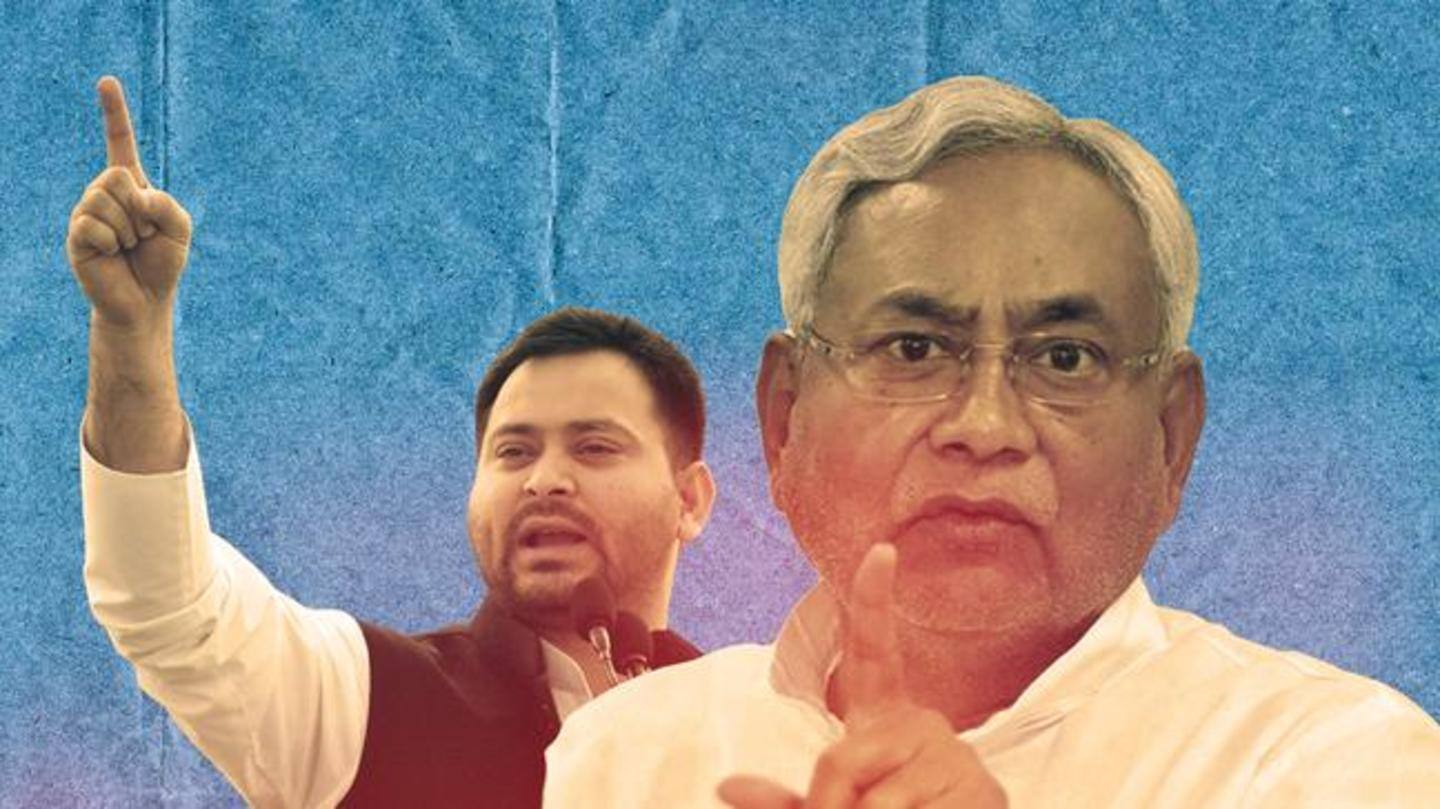 An hour after resigning as Bihar's chief minister, Nitish Kumar on Tuesday returned to Patna's Raj Bhavan with Tejashwi Yadav to stake claim to form a new government—led by Mahagathbandhan 2.0. The Janata Dal (United) leader also ended the alliance with the Bharatiya Janata Party (BJP). Kumar is set to become the CM again, with Rashtriya Janata Dal (RJD) leader Yadav as his deputy.
Why does this story matter?
Coalition partners in Bihar since 2017, the JD(U) and BJP had been at loggerheads in the recent past due to a variety of issues.
Kumar has skipped several meetings with BJP recently, signaling his disappointment with the saffron party-led National Democratic Alliance (NDA).
He was also rumored to be unhappy about former Union minister and JD(U) leader RCP Singh's growing proximity with BJP.
What did the leaders say?
Speaking to the press alongside to-be-deputy CM Yadav after a tumultuous day in Bihar politics, Kumar on Tuesday said he is all set to serve the people of the state with the Mahagathbandhan government. "There are seven parties including 164 MLAs along with Independents in the new alliance," Kumar said. Yadav said, "Across the Hindi heartland, the BJP does not have any alliance partners"
Kumar elected as 'Mahagathbandhan' leader
According to media reports, Kumar has been elected as the new leader of Mahagathbandhan 2.0. The veteran Bihar politician visited Rabri Devi's house in Patna after meeting Governor Phagu Chauhan to submit his resignation. Kumar and Yadav met the governor to stake a claim for the new government. "Let us forget what happened in 2017," Kumar reportedly told Yadav.
#Bihar | JP Nadda said they'll end regional parties. BJP knows only to intimidate buy people. All of us wanted the BJP's agenda shouldn't be implemented in Bihar, we all know Laluji stopped 'Rath' of Advaniji, we won't relent at any cost: RJD 's Tejashwi Yadav with Nitish Kumar pic.twitter.com/RzV4vrSSY7

— ANI (@ANI) August 9, 2022
Akhilesh Yadav hails Nitish Kumar's decision
Opposition parties across India reacted to the developments in Bihar and hailed Kumar for breaking off the JD(U)'s alliance with the saffron party. "Like Bharat Chhodho, a new slogan is coming from Bihar," Samajwadi Party chief Akhilesh Yadav said. The Trinamool Congress also welcomed Kumar's decision and said, "The BJP does not believe in smaller or regional parties' existence."
Nitish breaks off alliance with BJP
After a five-year stint, Kumar decided to break off JD(U)'s alliance with the BJP in a meeting with his MLAs and MPs in Patna on Tuesday. "This is a betrayal of BJP and the mandate of people," BJP leaders said and called Kumar "opportunistic" for ditching the alliance. This is the second time in eight years that Kumar has abandoned the saffron ship.
But, why was Kumar upset with the BJP?
One of the biggest reasons for Kumar's disappointment with the BJP seems to be the NDA's token representation of the alliance partners in the Union Cabinet. He had also expressed his disappointment with Bihar Assembly speaker Vijay Kumar Sinha. However, the breakpoint is supposedly the appointment of RCP Singh as the Union minister, who resigned last week after a show-cause notice by the JD(U).