Nepal's Aasif Sheikh wins ICC Spirit of Cricket award: Details 
Nepal's Aasif Sheikh wins ICC Spirit of Cricket award: Details 
Jan 27, 2023, 12:23 pm
2 min read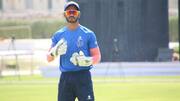 Nepal wicketkeeper-batter Aasif Sheikh has won the ICC Spirit of Cricket Award for 2022. He has been awarded for his heartwarming gesture during the T20I match versus Ireland in February. Despite having an opportunity, he had refused to run Andy McBrine out as the latter fell while taking the run. The former's act drew him praise. Here are further details.
Why does this story matter?
The ICC Spirit of Cricket Award is annually awarded to a player or team upholding the spirit of the game.
As mentioned in the preamble to the laws of cricket, the spirit of the game involves respect for opponents, the captain, the team, the role of the umpires, and the game's traditional values.
Aasif became the first player from Nepal to receive the honor.
The instance took place in the sixth match of the Quadrangular Series in Al Amerat. During the 19th over of the first innings, Mark Adair called non-striker McBrine for a single after hitting the ball in the leg side. In his attempt to retrieve the ball, the bowler Kamal Singh Airee collided with McBrine, and the latter fell.
Aasif Sheikh's selfless act 
Airee collected the ball and passed it to Aasif, who was near the stumps. Though the keeper collected the ball cleanly and had an easy opportunity to run the Irishman out, he decided not to dislodge the bails. Ireland ended up posting 127, and Nepal fell 17 runs short as they were bowled out for 111. Aasif scored a 22-ball 23 in the contest.
Aasif, who was delighted after receiving the honor, stated it was a spontaneous decision to not dislodge the bails. "It's an honor for me to receive this award, as my coaches always taught me to be humble and play within the Spirit of Cricket, the keeper told ICC. "It was a spontaneous decision as it would have been unfair to the batter."
A look at Aasif's numbers 
Aasif, who made his international debut in April 2021, has so far featured in 20 T20Is. He owns 468 runs in the format at 24.63, striking at 121.24. The tally includes two fifties. In ODI cricket, the 21-year-old has garnered 655 runs in 23 matches at 29.77. He strikes at 74.43 in ODIs. The right-handed batter has smashed five fifties in the format.