Ukrainian President Zelenskyy visits liberated city of Kherson
Ukrainian President Zelenskyy visits liberated city of Kherson
Written by
Snehadri Sarkar
Nov 14, 2022, 11:39 pm
3 min read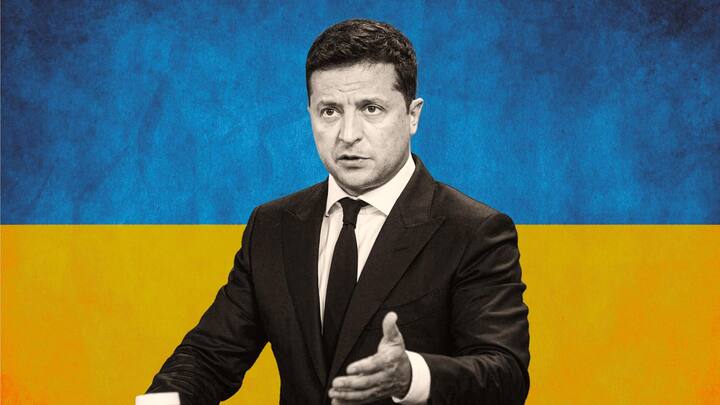 Ukraine President Volodymyr Zelenskyy has reportedly visited the country's southern city of Kherson, which was recently liberated from Russian control by its troops. He was also pictured on Monday posing with Ukrainian troops in central Kherson. Speaking to soldiers in the city, the president said that a "long and difficult path" for Ukraine still lies ahead despite Kherson's liberation, reported BBC.
Why does this story matter?
Kherson fell into Moscow's hands in the early stages of the Ukraine invasion. Now, its loss is a significant setback for Russian President Vladimir Putin.
However, Moscow still insists it remains a Russian territory.
The Kremlin declared the city the administrative center of the Kherson region, illegally annexed from Ukraine. It was the only regional capital to be captured since the Russia-Ukraine war began.
Kherson, one of Russia's early wins
Seizing Kherson was considered one of Russia's most significant early gains as part of its Ukraine invasion. In September, Kherson also became one of the four regions that were unlawfully annexed by Moscow after self-styled referendums were held. Russian President Vladimir Putin had announced during a ceremony in Moscow that annexing the regions of Donetsk, Kherson, Luhansk, and Zaporizhzhia was completely "non-negotiable," reported BBC.
'Russian army left behind same atrocities': Zelenskyy
Zelenskyy on Monday accused Russian forces of committing similar atrocities in Kherson as in other Ukrainian regions before they were forced out of the southern city and its nearby areas. "In the Kherson region, the Russian army left behind the same atrocities as in other regions of our country. We will find and bring to justice every murderer. Without a doubt," he said.
Ukraine President Zelenskyy in Kherson
Zelenskyy warns about booby traps
Zelenskyy also urged everyone in the liberated Kherson to be alert about any potential booby traps. "Please, do not forget that the situation in the Kherson region is still very dangerous. First of all, there are mines. Unfortunately, one of our sappers was killed, and four others were injured while clearing mines," he said. He also promised to restore all essential services soon.
Humanitarian crisis in Kherson
The end of Russia's eight-month-long occupation triggered celebrations in Kherson city. However, it also brought to the fore a humanitarian crisis, with people living without basic needs like water, food, power, medicines, etc. Russia is still in control of 70% of the wider Kherson province.
Watch: Zelenskyy waiving at people in Kherson
Ukraine pushing Russia back
Ukraine's retaking of Kherson is one of the latest major failures for Putin's troops. The Moscow pullout also marked a major milestone in Ukraine's pushback against the Russian invasion, which started nearly nine months ago. Over the past couple of months, the Ukrainian troops have taken back control of dozens of villages and towns north of Kherson city, reported The New York Post.
Ukraine reclaimed 50% territory from Russia
Russia's momentum seems to be declining of late, compared to when Moscow launched its offensive on Ukraine in February. This is clearly seen in the maps tweeted by ABC News correspondent James Longman, showing how Zelenskyy's troops have regained control of 50% of Ukraine's territory.
Tweet: Map of Ukraine in March v/s November
Left: Russian occupation in March

Right: Russian occupation in November

This is why Ukraine thinks total military victory is possible. For them, negotiating means giving Putin territory.

But they've already won back 50% of what he took at the start of the war@War_Mapper pic.twitter.com/z0kG3mXfAK

— James Longman (@JamesAALongman) November 12, 2022