Ashok Leyland, RIL unveil India's first hydrogen-powered heavy-duty truck
Ashok Leyland, RIL unveil India's first hydrogen-powered heavy-duty truck
Feb 07, 2023, 02:42 pm
2 min read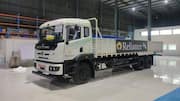 Ashok Leyland and Mukesh Ambani-owned Reliance Industries Limited (RIL) have unveiled India's first heavy-duty truck powered by a Hydrogen Internal Combustion Engine (H2-ICE). Prime Minister Narendra Modi flagged off the vehicle at the India Energy Week in Bengaluru. The vehicle was under testing since August last year. With it, Ashok Leyland wants to become a flag bearer of the 'Atmanirbhar Bharat' campaign.
Why does this story matter?
The H2-ICE trucks deliver quieter, more fuel-efficient operations, and lower emissions compared to diesel trucks.
However, buyers of such vehicles have to spend more upfront due to the limited availability and lack of proper hydrogen fuel infrastructure.
Once the technology becomes mainstream, the prices should go down. Ashok Leyland and RIL want to be the first to bring this change to the Indian market.
A brief look at the H2-ICE range
The H2-ICE truck range is based on the conventional diesel-based combustion engine. However, instead of fossil fuels, hydrogen is used as a power source. The trucks can bear a load of 19-35 tons and will be a part of Reliance's captive fleet before commercial deployment. They will aid in "faster migration to cleaner energy sources at a relatively lower cost delta."
What are the challenges to using hydrogen?
The H2-ICE technology might seem a promising way to ensure clean mobility but costs remain high. This is because of the limited availability of hydrogen fuel and no refueling infrastructure in place. However, the Centre is working on removing these hurdles by working on the National Hydrogen Energy Roadmap (a vision for hydrogen energy development/deployment) and promotional activities via the National Hydrogen Energy Mission.
Ashok Leyland-RIL seek end-to-end hydrogen ecosystem
Ashok Leyland and RIL want to establish an end-to-end hydrogen ecosystem in India. When operational, this could lead to zero vehicular emissions, more fuel-efficient models compared to ICE vehicles, and reduced dependence on oil imports. However, all of this is a long way away.
'Project demonstrates commitment to Clean Mobility Mission'
"Working with RIL, we have once again demonstrated our technological leadership and our commitment to the Clean Mobility Mission," said the president of Ashok Leyland, N Saravanan. He added, "Having one of the best R&D teams in the country, we want to continue our path to innovate and leverage new technologies to be a leader in sustainable and environment-friendly mobility."