Elon Musk surpasses Jeff Bezos to become world's richest person
Elon Musk surpasses Jeff Bezos to become world's richest person
Jan 07, 2021, 10:20 pm
2 min read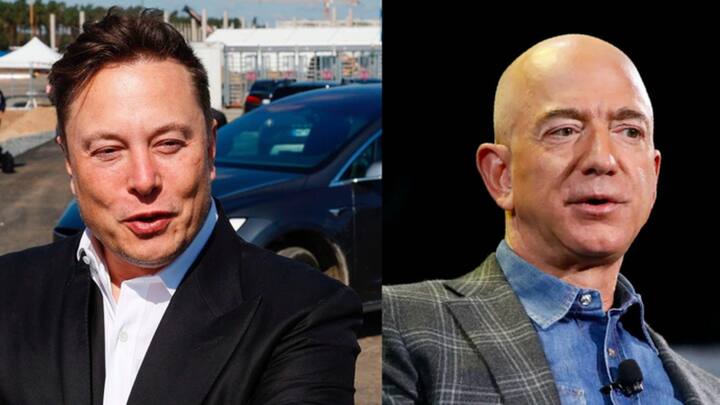 Tesla Inc. and SpaceX CEO Elon Musk has surpassed Amazon boss Jeff Bezos to become the world's richest person, Bloomberg reported on Thursday. Reportedly, a 4.8% rally in Tesla's share price boosted Musk's fortune past Bezos's on the Bloomberg's Billionaires Index, a ranking of the world's 500 wealthiest people. Musk is a rival to Bezos—the owner of Blue Origin LLC—in the private space race.
Musk's net worth stands at $188.5 billion
At 8:45 pm in New Delhi, Musk's net worth stood at $188.5 billion, $1.5 billion more than Bezos. Notably, Musk had only just surpassed Microsoft's Bill Gates—formerly the world's richest person—in November last year to become the second-richest person in the world. Reacting to the news, Musk said in a tweet, "How strange." In another tweet, he wrote, "Well, back to work..."
You can view the tweet here
Over past year, Musk's wealth has surged $150 billion
Over the past year, the billionaire entrepreneur's net worth has grown by more than $150 billion in what is possibly the fastest accumulations of wealth in the world's history. Tesla's share price has surged 743% last year due to consistent profits, inclusion in the S&P 500 Index, and enthusiasm from Wall Street and retail investors alike, Bloomberg reported.
China's bottled water king also climbs billionaires ranking
The Bloomberg Billionaires Index has been upended by extraordinary rallies. China's Zhong Shanshan has now surpassed Warren Buffett to become the world's sixth-richest person after shares of his bottled-water company surged. Last week, Zhong had replaced Reliance Industries chairperson Mukesh Ambani to become Asia's richest person. The world's 500 richest added a record $1.8 trillion to their combined wealth last year.