Sensex surges over 1,200 points, Nifty crosses 17,200 mark
Sensex surges over 1,200 points, Nifty crosses 17,200 mark
Oct 04, 2022, 10:13 am
2 min read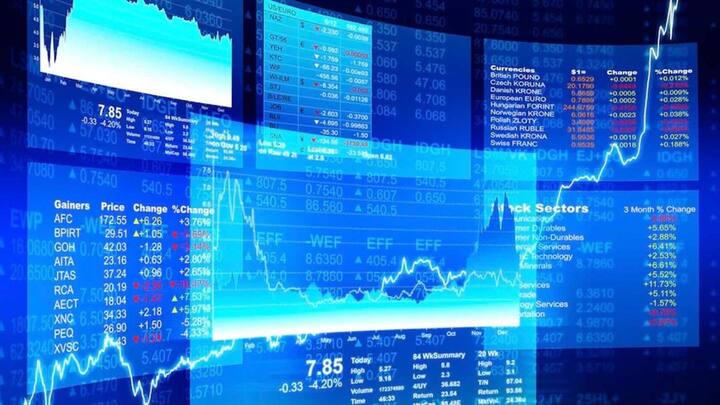 On Tuesday, the stock market has opened in green as the Sensex soared 2.15% to 58,011.94 points, while the Nifty gained 2.1% to 17,240.40 points. Mimicking the broader market trend, the midcap indices are also showing positive signals with the Nifty Midcap 50 gaining 142.05 points, or 1.7%, to 8,367.95 points. Read on for more details on Tuesday's market report.
Who are the biggest winners and losers so far?
The top sector gainers are NIFTY PVT BANK, NIFTY PSU BANK, and NIFTY BANK, edging up 2.72%, 2.67%, and 2.51%, respectively. The top stock gainers are IndusInd Bank, Hindalco, and Bajaj Finance, which are up 4.34%, 3.89%, and 3.11%, respectively. The Power Grid Corporation's stock is down 0.02%, being one of the few stocks trading in red.
INR gains 0.31 against the US Dollar
The Indian rupee (INR) strengthened 0.31% to Rs. 81.62 against the US dollar in the forex trade. The gold future prices are flat at Rs. 50,130, while the silver prices have climbed 1.22% to Rs. 61,655. The crude oil futures have increased 0.57% to $84/barrel.
How are the popular cryptocurrencies performing today?
Bitcoin is selling at $19,593.31, up 2.18% from yesterday Ethereum is up 2.78% and is selling at $1,328.37. Tether, BNB, and Cardano are trading at $1.00 (0.01% up), $287.60 (0.79% up), and $0.4277 (1.23% up), respectively. Dogecoin is trading 1.27% higher than yesterday at $0.06029.
Fuel prices in Delhi and Mumbai remain the same
The fuel prices in Delhi remain unchanged on Tuesady, with diesel priced at Rs. 89.66/liter and petrol costing Rs. 96.76/liter. In Mumbai, diesel is priced at Rs. 94.25/liter while petrol costs Rs. 106.29/liter.