Reasons why Mithun Chakraborty's 'Projapati' became a blockbuster hit
Reasons why Mithun Chakraborty's 'Projapati' became a blockbuster hit
Jan 06, 2023, 02:55 pm
2 min read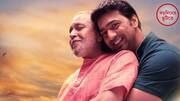 Veteran actor Mithun Chakraborty's recently released film Projapati has been shattering records at the box office. Starring him in the lead role, along with actors Dev and Mamata Shankar, Projapati was released in the theaters on December 23, 2022. The Bengali film has received a positive response from critics and audiences since its release. Here are some reasons why you should watch it.
Why does this story matter?
Chakraborty has returned to Bengali cinema after a hiatus of four years. He was last seen in Jole Jongole which was released in 2018. Directed by Nitish Roy, it also starred Jackie Shroff.
The National Award-winning actor started his acting career in 1976 with the Bengali film Mrigayaa. Since then, he has delivered multiple blockbuster films in Bengali cinema and Bollywood.
A heart-warming father-son story
Projapati is a film that revolves around a retired widower (Chakraborty), who like every other single parent, wants his son (Dev) to get married, and start a family. However, his son, who is a busy wedding planner, does not have plans of getting married. Although the film does not have an extraordinary storyline, the heartwarming scenes between the father-son duo are worth watching.
Chakraborty wins hearts as an aging father
One of the things that have left the audience impressed, is Chakraborty. The veteran actor is convincing as an aging father. He shows the insecurities that every single aging parent goes through, and that too with sheer finesse. He has successfully delivered powerful scenes that run high on emotions. His effortless acting has drawn applause from the audience.
Raking numbers at the box office
According to reports, Projapati has become one of the blockbuster hits in Bengali cinema. The film has reportedly set a new record for single-day box office collections by a Bengali film. Satadeep Saha, the film's distributor told ETimes that Projapati collected Rs. 1.13 crore in business in the new year. Per reports, it collected over Rs. 6 crore till Wednesday (January 4).