Lata Mangeshkar mentioned in 'Rolling Stone's 200 Best Singers list
Lata Mangeshkar mentioned in 'Rolling Stone's 200 Best Singers list
Jan 03, 2023, 12:31 pm
2 min read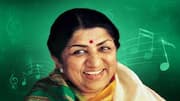 The Nightingale of India, late singer Lata Mangeshkar, has been included in Rolling Stone's list of 200 Best Singers of All Time. She bagged the 84th spot on the list, which also features the name of the late Pakistani singer Nusrat Fateh Ali Khan. The prestigious list includes Jungkook from the South Korean band BTS and Lee Ji-Eun aka IU, a South Korean singer-writer.
Why does this story matter?
Mangeshkar, who sang over 30,000 songs in her career in at least 36 languages including Hindi and Marathi, was given the title of "Nightingale of India." She breathed her last on February 6, 2022, at the age of 92.
She was admitted to a private hospital in South Mumbai. She was hospitalized for nearly a month after she was diagnosed with COVID-19.
Here's what 'Rolling Stone' said about Mangeshkar
The brief about Mangeshkar read: "The crystalline, eternally girlish voice of 'the Melody Queen' is a cornerstone of Indian pop music, with a global influence spread via Bollywood films, whose golden era she defined." "Lata was the empress of playback singers, the vocal magicians who perform songs for actors to lip-sync in lavish movie musicals, recording over 7,000 such songs, by some estimates."
Here's who grabbed the top spot
The top spot on the list was bagged by the late American singer Aretha Franklin. It was followed by the likes of Whitney Houston and Sam Cook in second and third positions, respectively. The other artists who made it to the top 10 included Billie Holiday, Mariah Carey, Ray Charles, Stevie Wonder, Beyonce, Otis Redding, and Al Green.
Khan bagged the 91st position on the list
Khan, whose music has remained largely popular in India, even today, was positioned at the 91st place on the list. "Watching archival performances of the late Pakistani vocal master, whose family's musical legacy stretched back hundreds of years—it's easy to lose track of time, and to hear how his music easily reached global audiences in the Eighties," read his details.
Other popular names on the list 
Other singers on the list included Adele, Paul McCartney, David Bowie, Louis Armstrong, and Ariana Grande, who are in the top 50. Lady Gaga, Rihanna, Amy Winehouse, Michael Jackson, Bob Marley, and Elton John made it to the top 100. The top 200 singers included the names of Taylor Swift, Ozzy Osbourne, Neil Young, Bono, Christina Aguilera, Barbra Streisand, and Billie Eilish.