21 Andaman & Nicobar islands named after Param Vir Chakra-awardees
21 Andaman & Nicobar islands named after Param Vir Chakra-awardees
Jan 23, 2023, 01:52 pm
3 min read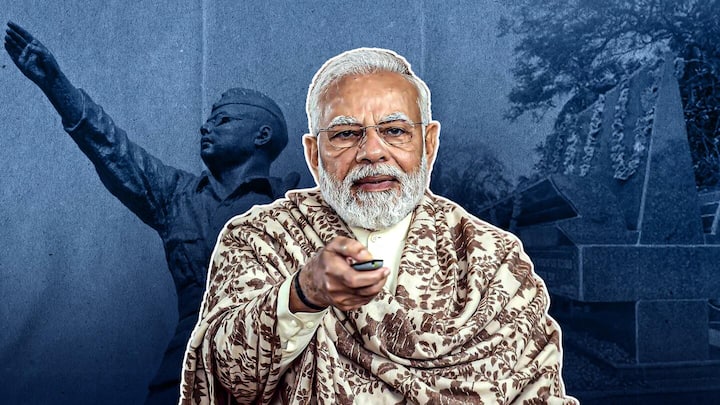 On the occasion of Parakram Diwas, commemorating Netaji Subhas Chandra Bose's birth anniversary, PM Narendra Modi on Monday named the 21 largest unnamed islands of Andaman & Nicobar Islands after Param Vir Chakra awardees. The ceremony in the UT was attended by several Union ministers, including Home Minister Amit Shah, and top officials. Modi also virtually unveiled the model of a proposed Netaji memorial.
Islands named after PVC awardees as per government initiative
The 21 islands named after the Param Vir Chakra awardees on Monday, as per a central government initiative, are located in North, Middle, and South Andaman districts, India Today quoted officials as saying. Notably, the largest of these islands was named after the first Param Vir Chakra recipient, Major Somnath Sharma, who was martyred on November 3, 1947, while fighting Pakistani infiltrators in Kashmir.
'Giving due respect to real-life heroes'
Ahead of the ceremony, a statement from the Prime Minister's Office said, "Giving due respect to the real-life heroes of the country has always been accorded the highest priority." "This step (naming islands after PVC awardees) will be an everlasting tribute to our heroes, several of whom had made the ultimate sacrifice to protect the sovereignty and integrity of the nation," it stated.
16 islands located in North, Middle Andaman districts
"The central government has taken this initiative to honor the Param Vir Chakra awardees. Of the 21 islands, 16 are located in North and Middle Andaman district, and five in South Andaman," an official was quoted as saying by India Today.
Modi unveils proposed memorial dedicated to Netaji
On Monday, PM Modi also virtually inaugurated a proposed memorial in the union territory that will be dedicated to Netaji. It will be constructed on Netaji Subhas Chandra Bose Dweep (formerly called Ross Island). The island was renamed in 2018. Modi, along with members of Lok Sabha and Rajya Sabha, also reportedly paid floral tributes at Bose's portrait in Parliament House earlier on Monday.
'Deeply influenced by his thoughts': Modi pays homage to Netaji
Ahead of the ceremony in Andaman & Nicobar Islands, PM Modi tweeted, "Today, on Parakram Diwas, I pay homage to Netaji Subhas Chandra Bose and recall his unparalleled contribution to India's history." "He will be remembered for his fierce resistance to colonial rule," he said. "Deeply influenced by his thoughts, we are working to realize his vision for India," the prime minister added.
Visuals of memorial model unveiling ceremony shared on Twitter
Netaji memorial will have these facilities
According to Hindustan Times, the proposed memorial dedicated to Netaji will have a museum, a laser-and-sound show, a cable car ropeway, and a guided heritage trail through historic buildings. Moreover, it will also include a theme-based children's amusement park and a retro lounge.