Delhi: Traffic curbs in place for Republic Day parade rehearsal
Delhi: Traffic curbs in place for Republic Day parade rehearsal
Jan 23, 2023, 12:30 pm
3 min read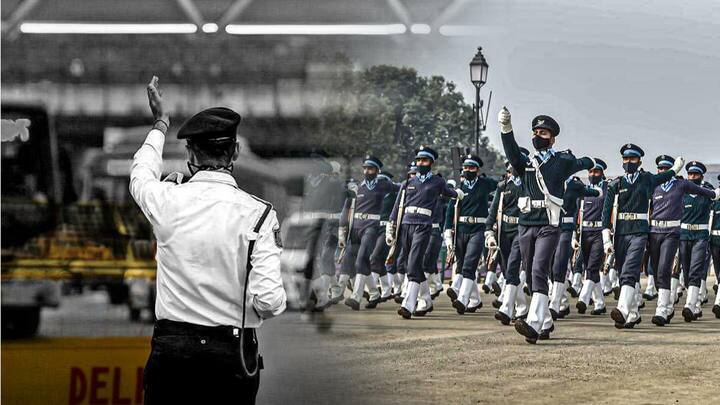 The Delhi Traffic Police has issued a traffic advisory in view of the Republic Day parade full dress rehearsal on Monday. It commenced from Vijay Chowk at 10:30 am and will proceed to Red Fort. Several traffic restrictions will be in place till the end of the parade to ensure a smooth passage throughout its route. Commuters were advised to plan their travel appropriately.
Why does this story matter?
Like every year, restrictions on traffic movement have been implemented in Delhi ahead of Republic Day.
Meanwhile, the Delhi Police has been extra vigilant after intelligence inputs on possible terror attacks were received.
Notably, several pro-Khalistani posters recently surfaced in West Delhi.
In 2021—amid farmer protests on Republic Day—protesters breached the Red Fort and hoisted Nishan Sahib, which Khalistanis refer to as their flag.
Route of the full dress rehearsal parade
According to the Delhi Police, the full dress rehearsal parade will start from Vijay Chowk and pass through Kartavyapath, the C-Hexagon, and the statue of Netaji Subhash Chandra Bose. Thereafter, the parade will take the Tilak Marg route, proceed toward Bahadur Shah Zafar Marg, and then to Netaji Subhash Marg before finally reaching the Red Fort Grounds.
Traffic restrictions in the national capital 
As per the advisory, the movement of traffic on Kartavyapath from Vijay Chowk to India Gate has also been barred from 6:00 pm on Sunday till the end of the parade, while cross traffic has also been restricted from 11:00 pm on Sunday. Moreover, no traffic will be allowed on Tilak Marg, Bahadur Shah Zafar Marg, and Subhash Marg till the parade is over.
No restrictions on Delhi Metro services
The Delhi Police advisory clarified that Delhi Metro services would be available to passengers with no restrictions on Monday. However, boarding and de-boarding at Central Secretariat and Udyog Bhawan metro stations are prohibited from 5:00 am to 12:00 pm on Monday. The advisory also mentioned that there would be no restrictions on movement from North Delhi to New Delhi or Old Delhi Railway Stations.
Restrictions on bus services 
The movement of buses in Delhi will be restricted on Park Street/Udyan Marg, Aram Bagh Road (Paharganj), Kamla Market roundabout, Delhi Secretariat (IG Stadium), Pragati Maidan (Bhairon Road), Hanuman Mandir (Yamuna Bazar), Mori Gate, ISBT Kashmere Gate, ISBT Sarai Kale Khan, and Tis Hazari Court.
Delhi Traffic Police full advisory shared on Twitter
Assistance from general public sought to ensure security
Meanwhile, the Delhi Police has also issued several instructions for the general public to ensure security in the national capital. It said information about any unidentified or suspicious person or object must be conveyed to the nearest police station at the earliest. It also requested that commuters obey all traffic rules and heed the orders of traffic police officers stationed at all intersections.
Aerial objects, UAVs, hot air balloons, paragliding banned 
The advisory also mentioned that flying sub-conventional aerial platforms like paragliders, hang gliders, paramotors, unmanned aerial vehicles (UAVs), unmanned aircraft, microlight aircraft, remotely-piloted aircraft, hot air balloons, quadcopters, small-size powered aircraft, and parachute jumping from aircraft is prohibited over National Capital Territory until February 15.