Check out the 5 most expensive pets in the world
Check out the 5 most expensive pets in the world
Jan 28, 2023, 03:30 am
2 min read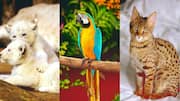 Have you ever thought of owning a unique pet that is not only luxurious but also reflects your status in society? While labradors, golden retrievers, Persian cats, etc. are the most common and affordable pets, there are many that are exotic and come with a hefty price tag. Here are the five most expensive pets in the world that require proper care and attention.
Extremely rare, white lion cubs are one of the most expensive pets in the world as they come with a whopping price tag of over $14,000. Usually found in woodlands, desert areas, and savannas, these pale-colored felines are a symbol of prestige and wealth. They require a lot of space to live and exercise. Besides proper care, these lions also need a special diet.
Great family pets, savannah cats are a hybrid breed and they result from a cross between a serval and a domestic cat. Featuring a wild appearance, these cats have triangular heads, long and slender necks, long legs, and wide ears. These active, social and affectionate cats cost over $20,000. These curious animals require a lot of attention, time, and interaction with their owners.
A large-size Tibetan dog breed, the Tibetan mastiff is an expensive, supreme and luxurious dog that cost more than $1 million. They are known for their protective nature and can also be used as guard dogs. These dogs are devoted to their owners and are calm and pleasant around the house. Since they have an independent nature, they need training to develop social skills.
One of the most expensive and exotic parrot species to own, macaws are quite large in size and can cost you more than $10,000. These high-maintenance birds usually require adequate nutrition, custom-made cages, and a lot of space for mental stimulation and exercise. They have high intelligence levels and are known for their mimicking and talking abilities. These birds also have a long lifespan.
A luxurious pet to own, Lowchen or Little Lion Dog is a small dog breed that comes with a price tag of around $8,000. Affectionate, lively, playful, gentle, and active, these dogs look like little lions and are covered with long and dense hair with a soft texture. Quite easy to train, these dogs make for great family pets, who offer companionship.