Know all about the auspicious festival of Saraswati Puja
Know all about the auspicious festival of Saraswati Puja
Jan 26, 2023, 04:45 am
2 min read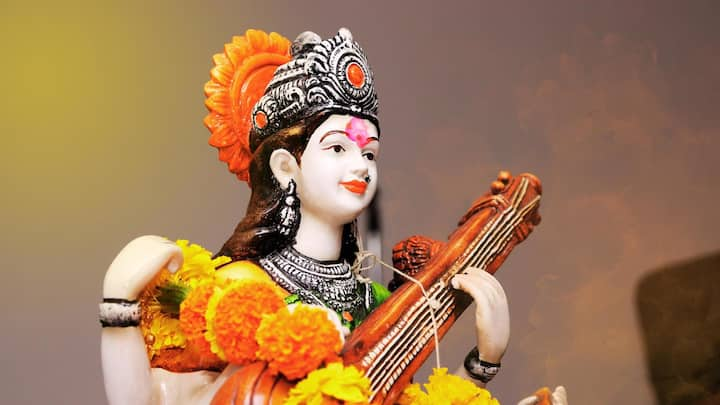 Basant Panchami or Saraswati Puja is the festival honoring Saraswati Devi who is the Goddess of knowledge, music, wisdom, and learning. Celebrated by Hindus across the country, the festival also marks the preparations for the arrival of spring depicting a new beginning. This year, the festival will be celebrated on January 26. Read on to know more about this auspicious occasion.
Significance of the festival
Holding great significance for scholars and students, Saraswati Puja gives a sense of spiritual enlightenment to worshipers. Maa Saraswati denotes calmness and serenity and the four hands of the Goddess symbolize mind, ego, alertness, and intellect. People usually wear yellow clothes, eat yellow-colored dishes, and use yellow flowers during puja as yellow is Maa Saraswati's favorite color and also the color of joy.
History behind the festival
Little children are introduced to formal education on this day, and the ceremony is called hathe khori. According to mythology, on this day Goddess Saraswati created powerful weapons to defeat Magishasuran, a dangerous demon. People used to worship the weapons as they were considered sacred and holy. According to another legend, Goddess Saraswati granted wisdom to classical poet Kalidas on Basant Panchami.
Where is the festival celebrated?
The auspicious festival is celebrated across India, Nepal, Bangladesh, and some parts of Bali, in Indonesia. In Bengal and Bihar, yellow-colored rice dishes and sweets are prepared using saffron while in Odisha, schools, and colleges organize yagnas or homas for students. In Rajasthan, it is a custom for young girls and women to wear jasmine garlands on this holy day.
Rituals associated with the festival
On this day, people usually wake up early morning and take a bath. A paste of neem and turmeric is applied all over the body before taking bath. Next, people dress up in yellow-colored clothes and set up the goddess' idol. They offer sweets, fruits, flowers, books, pens, instruments, and stationery to the goddess, perform aarti, and recite mantra to worship the goddess.