Republic Day 2023: You must try these tricolor food recipes
Republic Day 2023: You must try these tricolor food recipes
Jan 26, 2023, 02:25 am
2 min read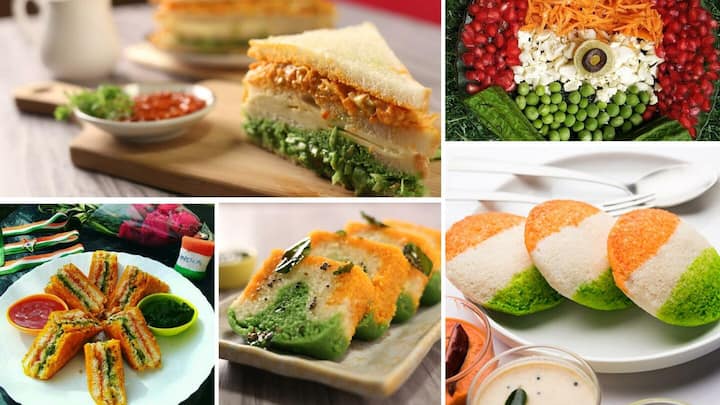 Calling all foodies and patriots alike! India celebrates its Republic Day on January 26 with much pomp and shows every year. Today, all of us soak in the love of our country in reverence for the men who guard it. And as you do that, also let your kitchen waft an aroma of some tricolor goodness. Here are five tricolor recipes you should try.
Tricolor sandwiches are easy to make. All you have to do is, make an orange paste by mixing carrots, mayonnaise, and salt. For the green, mix paneer and green chutney. Now place a slice of bread and smear the green paste over it. Cover it with another slice. Next up, spread the orange paste on it and then place another slice. It's done!
Divide an idli batter into three bowls. In the first bowl, add a paste of cooked and ground tomatoes and chilies to give it an orange color. Make a green batter by making a paste of coriander, green chilies, and mint, and mixing it in the second bowl. Let the third bowl remain as it is. Take a ladle of each batter and steam.
Divide a dhokla batter into three cups. Make one batter green by adding spinach puree and ginger-green chili paste. Make another orange by mixing in chili powder and gunpowder. Let the third bowl remain as is. Steam the green batter. Once done, layer it with the third batter and steam further. Now add the orange batter on the top and steam again.
To make a tricolor bread pakora, grab some slices of bread. Add some tomato ketchup on the first slice, followed by mayonnaise on the second, and green chutney on the third. Club them to make a sandwich and keep it aside. Now prepare a batter with gram flour, chili powder, turmeric, salt, and water. Dunk the sandwich in it and deep fry it.
This one is for all the health freaks out there. Prepare a dressing by mixing vinegar, honey, sugar, soy sauce, salt, garlic cloves, and chili pepper, and set it aside. Now grab a green papaya and slice off its ends. Peel its outer skin and once that's done, create papaya shreds. Mix it with carrots, cucumber, mint, and peanuts. Pour the dressing and enjoy!