Hitting menopause? Fret not, follow these skincare tips
Hitting menopause? Fret not, follow these skincare tips
Jan 25, 2023, 05:53 pm
2 min read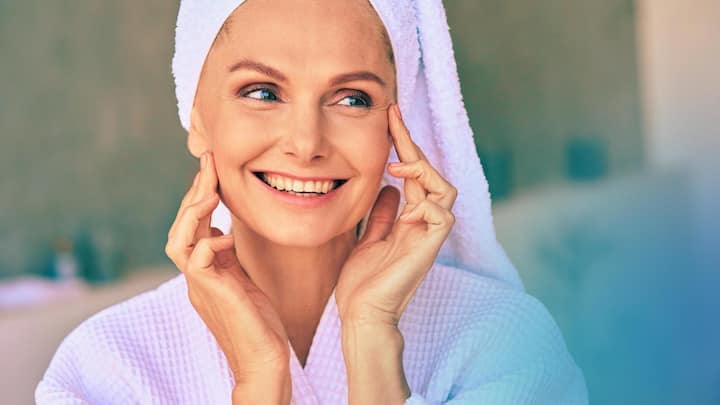 Usually occurring between the age of 45 and 55, menopause leads to a natural decline in a woman's reproductive hormones and marks the end of her menstrual cycle. Menopause comes with a lot of side effects including skin dryness, enlarged pores, acne, and dehydration. Your skin metabolism also slows down during this time. Here's how you can take care of your skin during menopause.
During and after menopause, your skin lacks moisture and becomes dry, itchy, and sensitive as the estrogen levels fall significantly. In order to prevent excess water loss from the surface of your skin, and to make it firm and nourished, use a hydrating moisturizer regularly. You can also use a vitamin C serum to prevent radical damage and reduce puffiness and signs of aging.
Don't forget to use retinol
Retinol is the perfect solution to lessen the appearance of fine lines and wrinkles which occurs during menopause. Retinol helps alter the behavior of aged cells and stimulates the skin to boost collagen production, thereby giving you youthful, smooth, and glowing skin. You can use a retinol-based night cream twice or thrice a week to eliminate the dryness and sensitivity of your skin.
Hot flashes are a common side-effect of menopause that can lead to a sudden feeling of warmth in the upper body, especially over the chest, face, and neck. It can also cause skin redness and sweating. To protect yourself from hot flashes, always keep a facial mist with you in calming lavender, aloe vera, or chamomile fragrances, and spray to feel relaxed and cool.
During menopause, your eye area is the first part to show signs of aging as your skin gets thin and develops eye bags, puffiness, and dark circles. You can choose an eye cream to hydrate your under-eye area and brighten and de-puff the skin. You can go for an eye cream loaded with caffeine, vitamin C, peptide, and glycerin to soothe the under-eye area.
Always use sun protection
As menopausal skin becomes thinner it becomes more prone to skin concerns like age spots and skin cancer. Therefore, always remember to use sunscreen to protect your skin from harmful UV radiation. You can go for a hydrating and non-greasy sunscreen with at least SPF 30 and apply it to all your exposed areas. Remember to always apply it before leaving the house.