On Dussehra, RSS chief Mohan Bhagwat pitches for Hindu Rashtra
On Dussehra, RSS chief Mohan Bhagwat pitches for Hindu Rashtra
Written by
Manzoor-ul-Hassan
Oct 05, 2022, 08:53 pm
3 min read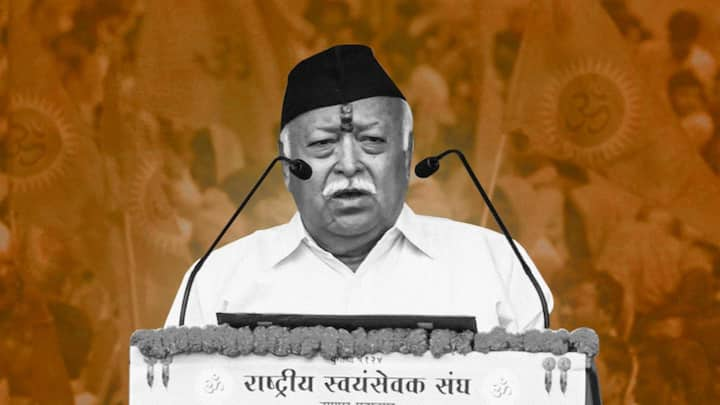 The Rashtriya Swayamsevak Sangh (RSS) chief Mohan Bhagwat on Wednesday stood above the customary party line, highlighting several concerns of common and national importance during the annual Dussehra event in Nagpur, Maharashtra. He also took part in shastra puja (worshipping of weapons). RSS also gave a strong message by inviting a woman chief guest, mountaineer Santosh Yadav, to the event for the first time.
Why does this story matter?
Bhagwat has been meeting Muslim leaders lately, which surprised many as the RSS is a Hindu-supremacist organization.
The development comes amid the communal polarization following the Karnataka Hijab row and the Nupur Sharma case.
In the Gyanvapi mosque case, Bhagwat slammed Hindu groups and asked, "Why to look for Shivling in every mosque?"
He probably pitching himself as the national leader for all communities.
Reaching out to minority community
Bhagwat reached out to minority communities saying that everyone can approach RSS without fear and seek help. He said fears had been spread about the RSS but added that the outfit doesn't "want to conquer others". He also welcomed members of the minority community coming forward to condemn incidents in Udaipur and Amaravati where suspended BJP spokesperson remarks on the Prophet triggered violent protests.
Hindu Rashtra concept not dangerous: RSS chief
"We are one as a society and in our nationality, this is the only protective shield, the mantra for us all," he said. According to him, there is "scare-mongering" among minorities that they are in danger if organized Hindus demand 'Hindu Rashtra'. History demonstrates that neither the Sangh nor Hindus are like way, Bhagwat claimed.
'India needs strict measures like China'
While highlighting the growing population in the country, Bhagwat said: "How many people can our country feed after 50 years? What kind of education and healthcare can we provide." He also suggested that India should adopt strict population control measures like China "When population stops increasing, societies disappear, languages disappear," the RSS chief said. "Infiltration from across the border also is responsible," he said.
'English not must to have good career'
Bhagwat said one needs to bust the "myth" that knowing English is required for a good career. "If we see all the top people in the country, almost 80% of them have studied in their mother tongue till matriculation," he said. He also emphasized the need for imparting real education to children rather than making them "money-making machines."
'Society cannot function without women'
Bhagwat listed the female participants in RSS activities and asserted that society cannot function without both men and women. "This is the Indian philosophy. In all social work (taken up by the Sangh), men and women work together," he said. He expressed sadness over society's limitation of their (women's) range of activities," noting that "foreign invasion provided legitimacy to such limits.
Many forces working against India's peace and progress, says Bhagwat
The RSS chief welcomed government efforts such as Atmanirbhar Bharat in the military industry, saying they will increase India's self-reliance and national security. According to Bhagwat, the country is facing a challenge from forces opposed to India's prosperity, peace, and unity. He stated that they approach us as friends yet work against us. "We don't have to get into their trap," he said.