TN Governor Ravi walks out of Assembly amid DMK tiff
TN Governor Ravi walks out of Assembly amid DMK tiff
Jan 09, 2023, 07:43 pm
2 min read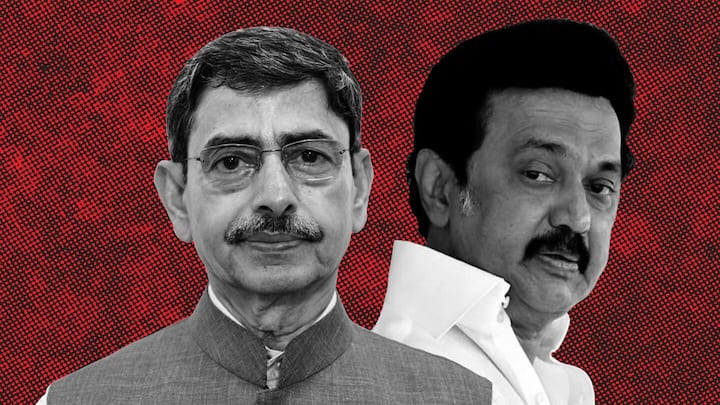 Tamil Nadu Governor RN Ravi walked out of the State Assembly on Monday after Chief Minister MK Stalin moved a resolution to record only the former's original speech prepared by the state government. Stalin objected to Ravi skipping parts of the speech prepared by the government, which the latter approved two days ago, for the first day of the Assembly's maiden session this year.
Why does this story matter?
Tamil Nadu's ruling Secular Progressive Alliance (SPA), led by the Dravida Munnetra Kazhagam (DMK), is at loggerheads with the governor over a number of issues.
In November, the SPA wrote to President Draupadi Murmu asking her to sack Ravi, alleging that he was instigating communal hatred and obstructing the government.
It accused Ravi of acting as a puppet of the BJP-ruled central government.
Governor skipped parts referencing Tamil icons
Governor Ravi reportedly skipped parts of the customary inaugural address in the Assembly, which had references to secularism, social justice, the state's management of law and order, women empowerment, and self-respect, among others. Ravi also skipped portions on the principles of BR Ambedkar and Dravidian leaders like Periyar, CN Annadurai, and M Karunanidhi. The address reportedly had 67 points presented in English and Tamil.
Governor against Dravidian model principles: CM Stalin
Ravi addressed the Assembly for around 50 minutes, and the original Tamil version was read out by Speaker M Appavu. Moving the resolution, Stalin urged the speaker to relax Rule 17 and record only the text of the speech prepared by the government. He alleged that Ravi was "against the Dravidian model principles of the government" and his actions were against Assembly traditions.
Resolution endorsed by DMK and allies; BJP, AIADMK opposed
The Assembly adopted the resolution supported by the DMK and its allies—Congress, Viduthalai Chiruthaigal Katchi (VCK), Marumalarchi Dravida Munnetra Kazhagam (MDMK), Manithaneya Makkal Katchi (MMK), Tamizhaga Vazhvurimai Katchi (TVK), and Left parties. The BJP and the All India Anna Dravida Munnetra Kazhagam (AIADMK) opposed it.
Governor walked out without waiting for national anthem
Stalin said the government respected the Assembly rules and didn't register any objection until the governor began his speech. As Stalin was delivering his speech, Ravi reportedly walked out of the Assembly without waiting for the national anthem, which was sung moments later. Last week, Ravi drew flak for his remark that Tamizhagam (land of Tamils) was a more appropriate name for Tamil Nadu.