NASA's Perseverance Rover drops 8th sample tube on Mars
NASA's Perseverance Rover drops 8th sample tube on Mars
Jan 20, 2023, 06:21 pm
2 min read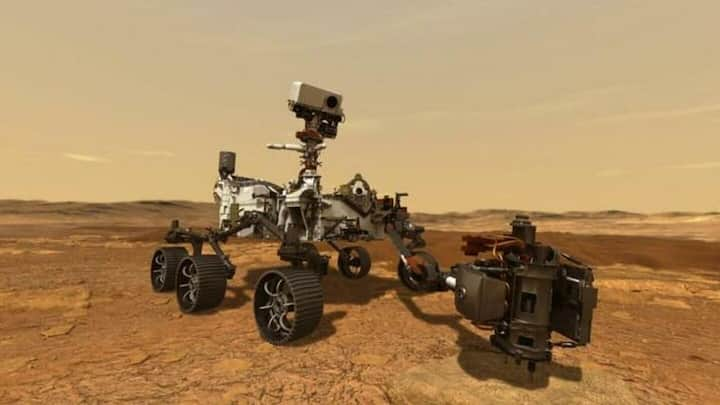 Perseverance Rover has dropped its eighth sample tube, out of ten, at the sample depot that it is constructing at the Three Forks region in the Jezero Crater region on Mars. NASA, along with ESA, intends to bring back samples from the red planet for further study via the Mars Sample Return (MRS) campaign. This sample depot is being created as a backup.
Why does this story matter?
NASA's Perseverance Rover began constructing the sample depot, which is the first of its kind on another planet, in December 2022.
Percy completed 50% of the construction of the sample repository earlier in January. With the latest sample drop, it has two more to go before the depot is completed.
The rover completed its primary mission spanning one Mars year on January 6.
The eighth sample is a piece of sandstone
The sample tube that has just been dropped consists of a piece of sandstone, which contains clues as to the wet environment that it was picked up from. "The individual grains within this rock got carried here by a river that flowed in long ago," wrote NASA in a Twitter post. "That means it's got info about what it was like farther upstream."
How NASA intends to bring back samples from Mars
Here's how Martian samples will be brought to Earth. A Sample Return Lander would land at the Jezero Crater and will carry a small rocket to collect the samples from Percy. In case the rover is unable to deliver the samples, the sample depot will serve as a backup. Furthermore, two Ingenuity-like helicopters would provide a secondary capability to retrieve samples from Mars' surface.
The samples will be brought back from early to mid-2030s
Once the sample cache takes off from the red planet, another spacecraft in Mars orbit will be waiting to receive the sample collection, which will then bring it back to Earth safely. This is scheduled to occur sometime from the early to mid-2030s. The Martian samples being returned to Earth will help us answer an important question: Did life ever exist on Mars?
The MRS program holds immense significance
The MRS campaign will be momentous for several reasons. For one, this will be the first time that several vehicles, including a lander, a rocket, and multiple helicopters, would land on the surface of Mars at the same time.
Take a look at NASA's post