Rocket Lab successfully launches Electron rocket from US soil
Rocket Lab successfully launches Electron rocket from US soil
Jan 25, 2023, 12:54 pm
3 min read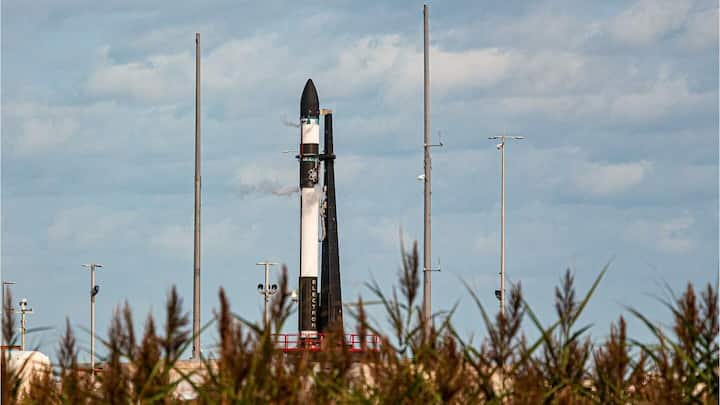 Rocket Lab, a California-based aerospace launch service provider, successfully carried out the debut US launch of its Electron booster. The mission, named "Virginia Is for Launch Lovers," took off from NASA's Wallops Flight Facility in Virginia, at 6 pm EST on January 24 (4:30 am IST, January 25). Onboard, were three commercial radio frequency monitoring satellites for HawkEye 360, a radio frequency analytics firm.
Why does this story matter?
This is the first time that Rocket Lab has launched an Electron mission from the US.
Typically, the company sticks to its launch sites on the Mahia Peninsula in New Zealand, where it has carried out take-offs of all the previous Electron missions.
With the successful maiden flight of the Electron booster from American soil, the company has expanded its business prospects.
Check out the US launch of the Electron rocket
The satellites were deployed within an hour of launch
As planned, less than an hour after liftoff, the three satellites were deployed at an altitude of about 550km. However, the information regarding the successful deployment of the payloads was delayed by about 35 minutes, because of problems with the communications-receiving ground station. Before this, the launch was planned for December 2022 but was put off since the weather conditions were not favorable.
Rocket Lab will launch 15 satellites for HawkEye360 by 2024
Rocket Lab's debut US launch is the first of three planned missions for HawkEye 360. The company is building a suite of small satellites for radio frequency surveillance. As part of the plan, Rocket Lab will launch 15 satellites for HawkEye 360 by 2024.
NASA helped develop critical flight safety technology
The Virginia launch site is part of the Mid-Atlantic Regional Spaceport for commercial launches out of Wallops. Rocket Lab finished building the launch pad there in 2020. NASA helped develop a critical piece of flight safety technology required for this mission called the NASA Autonomous Flight Termination Unit (NAFTU). This launch marked the first-ever flight of the NAFTU flight safety system.
'NAFTU is game-changing flight safety technology'
"In taking NAFTU across the finish line, NASA has delivered an autonomous flight termination system like no other in operation today filling a critical gap in modernizing our nation's launch ranges," said David L. Pierce, Wallops Flight Facility director. "We're proud to have made this and future U.S. Rocket Lab Electron launches possible with our game-changing flight safety technology," he added.
Rocket Lab is building a reusable rocket called Neutron
Rocket Lab intends on launching roughly one Electron mission every month from the Virginia launch pad. The company is also building a larger reusable rocket called Neutron. The rocket will take off no earlier than 2024 and from the same launch pad as Electron.