Russia to simplify visa process for Indians
Russia to simplify visa process for Indians
Mar 07, 2023, 11:04 am
3 min read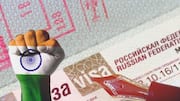 India and Russia are currently reviewing their bilateral trade and have committed to working together to improve their economic relationship. On March 6, the latter announced that it is going to relax and simplify the visa regime for the former, fulfilling its long-established demand. With that, traveling to Russia from India is now going to be a lot smoother.
This welcoming decision comes after Lavrov's India visit
The step to ease out visa guidelines has come after Russia's foreign minister Sergey Lavrov visited India. As per the state TASS news agency, the country has already started the process to relax the visa procedures for those wanting to travel to Russia from India. Reports convey that, besides India, there are other countries in the pipeline for whom Russia will ease visas.
Russia will also simplify visa regime for six other countries
While easing out the visa process for India is already in the works, Russia concurrently has also announced to do the same for six other countries. Russia's deputy foreign minister, Evgeny Ivanov, said, "In addition to India (procedures simplification) ... is being worked out with Angola, Vietnam, Indonesia, Syria, and Philippines." Ivanov had also announced once that Russia shall go visa-free with 11 countries.
Russia is preparing to go visa-free with 11 countries: Reports
TASS reported that Ivanov had also made a big announcement regarding Russia's plan to prepare intergovernmental agreements on visa-free travel. If reports are to be believed, Russia is full throttle into signing these agreements with Saudi Arabia, Barbados, Haiti, Zambia, Kuwait, Malaysia, Mexico, Trinidad, and three other foreign destinations. The country seems to be working a lot toward improvising its travel and tourism sector.
India had taken a neutral stance on the Russia-Ukraine war
The infamous Russia-Ukraine war hasn't found a truce yet. India, unlike many other countries around the world, is on the fence regarding it, taking a neutral stance on the matter. While Japan, the US, and the European Union censured Russia's invasion of Ukraine, India and China have declined to blame the country for it. India has also boosted the purchase of Russian oil.
US hopes to work with India to end the war
The United States of America has expressed its hope to work with India to end the war between Russia and Ukraine. In a press briefing on March 2, US State Department spokesperson Ned Price said that India can speak with moral clarity. "India also has tremendous leverage in different areas whether its economic leverage, diplomatic leverage, political leverage, but also moral leverage," he said.