Realme 4K Google TV Stick review: Makes older TVs smarter
Realme 4K Google TV Stick review: Makes older TVs smarter
Apr 18, 2022, 10:00 am
7 min read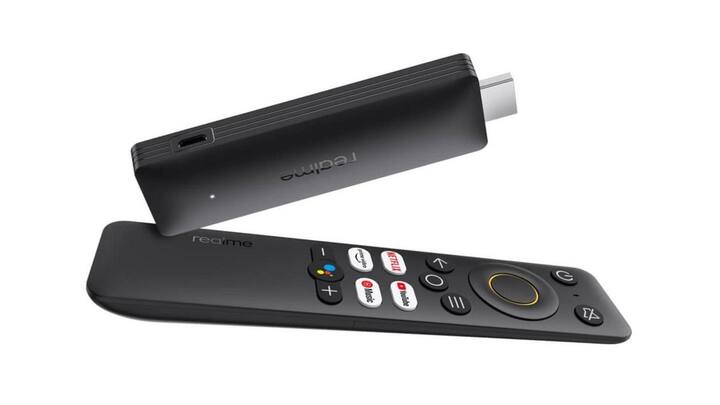 Smart TVs have truly evolved only over the past couple of years, thanks to platforms like Android TV 9 (or newer) or Amazon's Fire OS. Tizen and WebOS aren't too bad either, but are limited to Samsung and LG models respectively. If you already have a smart TV running either of those platforms, this product is not for you. However, if you bought one prior to that, chances are it is either non-smart or based on an older platform like AOSP or Linux. While those platforms lack polished user interfaces and broad app compatibility, the picture quality of some of the older TVs is quite good, and possibly even better than some of the budget smart TVs available today. That itself is a good enough reason to not dump them. But the lure of OTT services in their full glory is too much to ignore these days. So what should one do to get the best of both worlds? The answer is pretty simple. Either buy one of the Amazon Fire TV sticks or the product that we have for review today - the Realme 4K Smart Google TV Stick. While both manage to achieve the same goal, they have their own benefits. So let's look at this Realme product closely and see if it's the right one for you.
What exactly is the Realme 4K Smart Google TV Stick?
As you can guess from the name, this Realme product is a Google TV based video streaming dongle that converts a non-smart TV into a smart TV. In fact, it also serves as a platform upgrade for early generation smart TVs running older operating systems. It runs Android TV 11 at the back with Google TV UI. While it is ideally meant for a 4K TV, you can use it with any TV as long as it has a free HDMI port. You will also need a Wi-Fi internet connection for it to stream content. The stick plugs into the HDMI port and you can either use the bundled micro-USB charger to power it or it can draw power from the TV's USB port. I suggest you opt for the former. It is a compact device that is accompanied by a wireless Bluetooth remote control that accepts voice commands. The remote is compact, minimalistic and similar to the one you get with Realme Smart TVs. It comes with only a handful of buttons without missing out on anything important. The remote has hotkeys for Netflix, Prime Video, YouTube and YouTube Music, along with buttons for power, settings, volume, mute, Google's voice assistant and home and back keys. It operates over Infrared (IR) and Bluetooth both. The power button works on IR, and the rest over Bluetooth once the remote is paired with the TV. The Realme 4K Smart Google TV Stick provides you with most of the features you get on newer Android TVs like support for popular OTT platforms, Play Store to install more apps, and Chromecast built-in to cast content from compatible apps on your phone or tablet to the TV. The dongle is powered by a quad-core processor, dual-core GPU, and comes with 2GB of RAM and 8GB of internal storage, half of which is available for your needs.
How is it different from Android TV? How's the performance?
Google TV is pretty much based on Android for TV, just with a different user interface. At its core, it is quite similar to Android TV. In fact, the newer Android TV updates on several TVs actually makes the interface look a lot like that of Google TV. The OS is based on the latest Android TV 11. The UI is quite polished and has a nice transparency effect in different menus. It gives a higher priority to content discovery rather than apps installed. It shows you suggested content from various OTT platforms which the algorithm believes would interest you. It feels absolutely random at the start but slowly gets better as you watch more content on it. No, the OTT subscriptions aren't a part of the package. You need to subscribe and login to each service that you wish to watch on this device. The Realme Google TV Stick provides you with a platform and convenience to watch all the supported streaming services at one place. The stick comes preloaded with apps for Netflix, Prime Video and certain popular Google services. Google Play Store is available to install thousands of other popular apps as and when you need. The performance of this streaming device is quite good. If you have a fast enough internet connection, it can stream videos up to Ultra HD (4K) resolution, and the content looks sharp with good color production. HDR support is available and the stick is HDR10+ compliant. Content on Amazon Prime Video manages to take advantage of this technology better than most. Dolby Vision support is not available, and content encoded in that format either plays in HDR10 or SDR. The audio output is clean, and has its own volume control that doesn't sync with that of the TV's master volume. The overall experience was pretty much lag-free, and there was no stutter during 4K playback either.
Realme 4K Google TV Stick v/s Fire TV Stick 4K
Realme 4K Google TV Stick v/s Fire TV Stick 4K is an obvious comparison that comes to mind. While these video streamers are based on two different platforms, Google TV and Fire OS, they are identical in many ways in terms of peak resolution, apps support, 5GHz Wi-Fi compliance and more. Choice of UI is a matter of individual taste. While the Realme Stick has Google Assistant, the Fire TV Stick has Alexa as your virtual assistant. One thing extra that the Amazon Fire TV Stick 4K has is support for Dolby Vision and other higher end Dolby Audio formats like Atmos. Thus, if you have a Dolby Vision-compliant TV and plan to watch content encoded in that format on Netflix and Disney+ Hotstar, Fire TV Stick 4K would be a better option for you. The Realme Stick does have a useful feature not available on its Amazon counterpart, and that's built-in Chromecast; Fire TV stick has to make do with mirroring. Also, the Fire TV Stick 4K is more expensive, unless you get one in an online sale. There is another product in the market priced similar to the Realme 4K Google TV Stick and that is the Mi TV Box 4K from Xiaomi. While it runs the older Android TV 9 OS and HDR support is limited to HDR10, it does have a couple of cool tricks up its sleeve. Firstly, it supports Chromecast Ultra that lets you cast content at up to 4K resolution as opposed to Full-HD on regular Chromecast. It also has an analogue audio out to plug in external speakers, and a USB port to play content from flash drives.
Should you buy the Realme 4K Smart Google TV Stick?
The Realme 4K Smart Google TV Stick is priced at Rs. 3,999 in India with a one year warranty. It can often be spotted for Rs. 500 lower. It is a good price for what it offers. It is one of the rare devices to offer the official Google TV platform, and certainly the most inexpensive to do that. Beneath the surface it runs the latest Android 11 for TV and supports 4K resolution with HDR10+ compliance and support for 5GHz Wi-Fi. The performance is smooth and pretty much lag-free. Before you pull the trigger on it, you do need to consider the alternatives mentioned above. Each product has its own pros and cons, and it is hard to pick a clear winner between the three. You need to choose one depending on the features that appeal to you most. However, when the Amazon Fire TV Stick 4K is available under Rs. 4,000 in online sales, it does make a stronger case given its superior picture quality. The other two won't disappoint you either.