Articles about JioMart
JioMart is an online grocery delivery service that was launched on April 26 by business tycoon Mukesh Ambani-run Reliance Industries Ltd. This is a joint venture between Reliance-owned Jio and world's largest social media company, Facebook. Reports say that FB has invested $5.7 billion in JioMart, which is like 9.99% stake in the company. The e-commerce site promises to deliver groceries and vegetables to more than 200 cities, and that too at 15% discount on MRP. This raises the competition as the discount is higher than what Amazon or Big Basket offers. However, the first reviews of JioMart were disappointing with many customers complaining of receiving stale fruits and vegetables. These, according to experts, are initial hiccups that will ebb away as business would progress.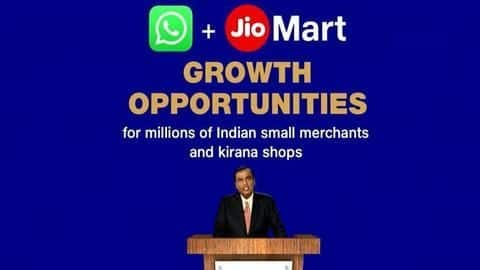 Soon, Reliance may let you order groceries from WhatsApp
Mukesh Ambani-led Reliance Retail Ltd. is reportedly working toward embedding JioMart into WhatsApp within the next six months. The move will allow 400-million Indian WhatsApp users to address their grocery needs from neighboring outlets through Ambani's hyperlocal e-commerce platform.