'83' review: Fantastic performances, well-presented on screen with brilliant direction
'83' review: Fantastic performances, well-presented on screen with brilliant direction
Dec 25, 2021, 04:29 pm
2 min read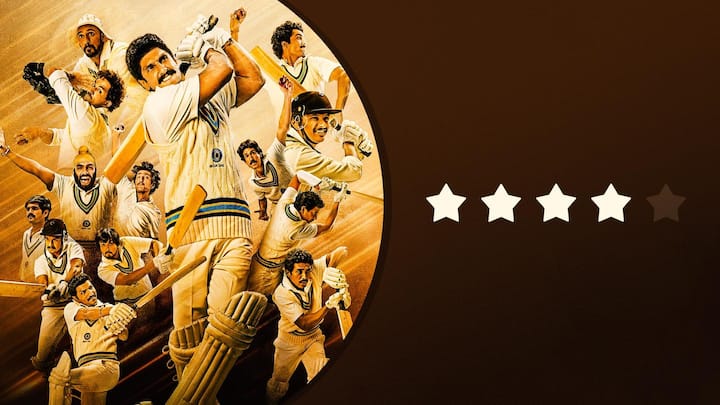 Ranveer Singh, Deepika Padukone, and Pankaj Tripathi starrer 83 released on Christmas Eve. Director Kabir Khan successfully managed to bring true-to-life performances from the characters based on India's historic 1983 Cricket World Cup win. The film's USP is its repeat-watch value; you can watch it any day with your family. However, a theater experience is way enjoyable than a small screen. Here's our review.
The story of champions who did the unthinkable
Singh plays Indian skipper Kapil Dev, who's determined to win the World Cup in any case. The problem he faces here is the trust factor of the host country (England) and even Indians who underestimate the team initially. How Dev changes people's perception toward his team with their spectacular win forms the crux of the story. No guesses on who wins the cup, right?
Singh, Tripathi, Jiiva shine bright in their roles
Singh deserves applause as he perfectly managed to fit in the shoes of Dev. Be it his mannerisms, way of speaking, or thought process, all align well in front of the camera. Tripathi, who plays PR Man Singh, India's team manager, delivers another top-notch performance. Also, Tamil actor Jiiva as Krishnamachari Srikkanth surprises everyone with his talent. Padukone, in her minuscule role, looks decent.
You will feel like you are watching a live match
Throughout the film, you will have a childlike excitement whenever there is a thrilling scene. There are many clap-worthy moments, too. Singh's motivational dressing room speech before the finals and Srikkanth's humorous and emotional scene in front of an English reporter are the highlights of the film. How cricket brings everyone together irrespective of religion is another message the film delivers.
'83' definitely has repeat-watch value
As the film ended, I heard things like, "Mazaa aa gaya (had a lot of fun)," and, "Bahut acchi thi (it was very good)." These comments pretty much sum up my experience of watching 83. Verdict: 4 stars (for Khan's direction, strong writing, and performances of Singh and Tripathi). Meanwhile, Shahid Kapoor-Mrunal Thakur starrer Jersey releases next weekend. Are you excited to watch it?