Gurugram couple mercilessly tortured 14-year-old help; arrested
Gurugram couple mercilessly tortured 14-year-old help; arrested
Feb 08, 2023, 04:12 pm
3 min read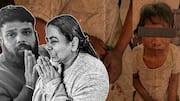 A joint squad of Sakhi, a one-stop crisis center, and the police rescued a 14-year-old girl hired by a Gurugram couple to care for their child, officials said on Tuesday. The New Colony couple worked at private companies and were reportedly sexually harassing and torturing the girl for months. She was discovered with wounds all over her body, including her feet, mouth, and hands.
Couple mercilessly abused minor girl daily: Report
As per the official complaint filed by the Sakhi center in charge, Pinky Malik, the minor girl hails from Jharkhand's Ranchi and she was initially hired via a placement agency. The couple allegedly forced her to work and abused her mercilessly on a daily basis, PTI reported. She was also not allowed to sleep the entire night and was not given any food.
Couple hired minor girl to look after their daughter: Cops
According to reports, the couple assaulted the girl with sticks and blades, and she was also branded with hot tongs. Since being rescued, the 14-year-old teenager has been hospitalized in critical condition. According to preliminary investigations, the couple hired the girl five months ago to care for their three-and-a-half-year-old daughter.
Minor girl was being sexually harassed, reveals police
During her stay with the couple, both the wife and the husband reportedly used to beat the girl every day. The police revealed that she was also being sexually harassed. "She was not given food for days. The teen used to eat leftover food from the dustbin," an officer was quoted as saying by NDTV.
Here's the social media post that triggered the probe
A Gurugram-based NGO contacted the cops after an activist's Twitter thread on the girl's condition went viral. The photos shared by activist Deepika Narayan Bhardwaj show the child with multiple bruises and burn marks on her lips, forehead, arms, and cheeks.
Twitter tread from activist Bhardwaj
I just met the girl. Short of words. She's shared with me unimaginable horror. Blades, sticks, hot tongue - i don't think anything was left in assaulting this child. All this for - not finishing work on time. She wasn't paid a single penny for months of work @KanoongoPriyank pic.twitter.com/gUo7DRGwUI

— Deepika Narayan Bhardwaj (@DeepikaBhardwaj) February 7, 2023
FIR registered against couple under multiple IPC Sections
A First Information Report (FIR) was filed against the couple at New Colony police station under Indian Penal Code (IPC) Sections 342 (wrongful confinement), 323 (causing hurt), and relevant sections of the Protection of Children from Sexual Offences Act (POCSO) Act and the Juvenile Justice (Care and Protection of Children) Act.
Between 2020-21, crimes against children increased by 16.2% in India
As per the data provided by the National Crime Records Bureau (NCRB), crimes against children increased by 16.2% between 2020 and 2021 in India. These cases included child marriage, abduction, sexual abuse, and murder, among other crimes. As per the report from August last year, the total crime rate increased to 33.6% in 2021 from 28.9% in 2020.