Looking for low-maintenance plants for office? Check these out
Looking for low-maintenance plants for office? Check these out
Feb 05, 2023, 10:34 pm
2 min read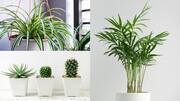 If you want to purify the air in your office space while adding visual interest to your office decor, then place some low-maintenance plants in the area and around your desk. There are many plants that can thrive in low-light conditions, which are perfect for your office desk. They will also make the space more comfortable. Here are five low-maintenance office plants.
Spider plant is perfect for your office space as it is highly effective in creating a toxin-free environment in their surroundings. These plants help eliminate commonly found toxins like formaldehyde. They help purify the air, are extremely low maintenance, and can also thrive in partial shade and light. These plants can also tolerate inconsistent watering due to their thick, fleshy roots.
A very easy-to-maintain plant, keeping a money plant in your office space will not only refresh the air but will also help attract wealth, prosperity, and good fortune. It will create a positive environment in your space and offer you success in your career ventures. Money plants will also help you stay focused on your work. These fuss-free plants can survive in low sunlight.
Cactus plants are small in size, which makes them the perfect choice for your office. Available in different varieties and styles, they require less water and minimum attention. However, they need some amount of sunlight to survive. So, keep them near the office window or places where sunlight will enter. Cactus can help clean the air, remove pollutants, and improve indoor air quality.
Not only is the bamboo palm plant pretty to look at, but it also creates a positive effect on your health. They look great in tropical-themed decor. The plant helps remove harmful pollutants like benzene, carbon monoxide, formaldehyde, and chloroform from the air. These pet-friendly plants can survive in low-light conditions. However, you need to water them regularly as they require consistent moisture.
Known for its air-purifying properties, the peace lily is a flowering plant with glossy dark green leaves that add an aesthetic appeal to your office space. These plants can help break down and neutralize toxic gases like carbon monoxide, benzene, trichloroethylene, and formaldehyde. These hardy plants can thrive in low-light conditions. However, it requires weekly watering. Peace lilies bloom twice a year.