How to introduce your new cat to your existing cat
How to introduce your new cat to your existing cat
Feb 06, 2023, 01:15 am
3 min read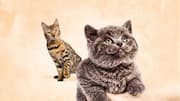 Some cats are comfortable being with other felines and actually enjoy their company. However, most cats can develop jealousy against each other. Their resource-guarding instincts kick in instantly when one cat watches you give more attention and love to your other cat. Fortunately, you can introduce your new cat to your existing cat in a healthy way while being a good pet parent.
Keep your new cat in a separate room initially
The first impression that both the cats make about each other is quite important. If, on the first meeting, both the cats show aggression, this may set the mood for their future relationship. So, it is best to keep them in separate rooms initially. Once you bring your new cat home, leave her alone in a separate room and let her settle down.
Make them feel each other's presence discreetly
Keep them separated, but both cats should be able to smell and hear each other. Make individual provisions for both, such as their own food and water bowls, bed, litter box, scratching post, etc. But when it comes to feeding, feed both of them near the door that separates them. This way, their coming together will be a pleasant experience.
Cats not only communicate visually but also by scent. So, you must start by introducing them to each other by swapping their scents. To do so, switch their locations so that they can investigate each other's scent and territory. You may also use the same towel to rub both the cats separately to intermix their scents and then allow them to investigate the towel.
Let the cats see each other
Once you are assured that there's no sign of aggression between the two kitties, proceed with the introduction part. Put them in an area separated by a transparent barrier where they can see each other. Say their names and toss treats to them. Over the next few days, continue to encourage feeding and playing. Slowly, your cats will become comfortable with each other.
Let the cats spend time together
The final step is to allow both felines to spend time together, but this time without the barrier. In case the cats begin to fight, keep a squirt bottle handy to separate them. However, if that is not the case and your cats have become familiar with each other, allow them to spend more and more time together. Voila! Your cats are friends now.