Stye (sty): Meaning, causes, symptoms, treatment, and prevention
Stye (sty): Meaning, causes, symptoms, treatment, and prevention
Jan 25, 2023, 11:42 am
3 min read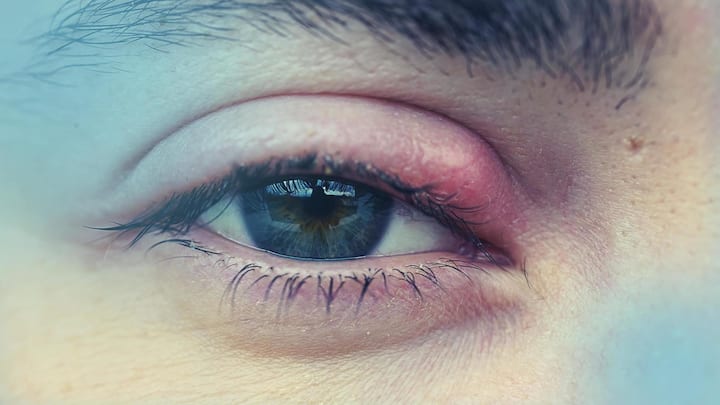 Here is an 'eye-palling' disease. A stye or sty is a common health condition in which a boil or pimple-like formation develops on the eyelids. In some cases, the boil/pimple that is filled with pus can also grow on the inner side. It typically lasts only for a few days and is manageable to deal with. Here is everything you should know about it.
Stye is a painful and uncomfortable but non-communicable
A stye is non-communicable but can cause immense pain and discomfort, especially during the initial stage of its growth. The red bump also secrets pus that infects the entire region of the eye. There are two main types of this health condition - external stye and internal stye. While the former occurs above or below the eyelid, the latter forms on the inside.
It happens when an oil-producing gland gets blocked
A stye can happen to anyone and at any point in time in their life. The major cause behind its occurrence is when an oil-producing gland, which is present on the eyelash follicle or eyelid skin and is pretty tiny in size, gets blocked and infected. This blockage can occur due to cosmetics, hygiene issues, infected contact lenses, or sudden inflammation.
Eye tearing, redness, itching, and soreness are some signs
The symptoms of a stye may vary depending on its intensity. However, the general scheme includes redness of the infected eye, extreme itchiness and soreness, eye tearing, and light sensitivity. Patients may also experience a feeling as though something is blocking their vision or hindering their eye movement. They may also wake up with the infected eye stuck to the skin owing to pus.
Warm compress, cleaning eyelids, and medicines can heal stye
In most cases, a stye can be easily managed at home. Your doctor may suggest you apply a warm washcloth for 10 to 15 minutes, three to five times a day. Additionally, they may ask you to clean your eyelids time and again with lukewarm water to wipe out the discharge. You may also be prescribed certain medications including eye drops to relieve discomfort.
Don't touch eyes with unwashed hands or leave makeup overnight
To steer clear of developing a stye under or inside your eye(s), ensure that you don't touch them with unwashed hands. Sleeping with makeup on is also a bad idea as it can lead to this health condition. In fact, you should check the expiry date of your cosmetic products before applying them to your eyes. Always clean your contact lenses before using them.