These are the 5 most futuristic cities in the world
These are the 5 most futuristic cities in the world
Jan 18, 2023, 09:36 am
2 min read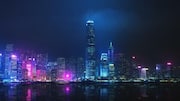 Human civilization has come a long way since the hunting-gathering era. We have since been progressing forward beyond unimaginable and unforeseeable ways. Wondering what the urban landscapes of the future will look like? Look no further, because we have come up with a list of the top five cities that are by far the most futuristic cities worldwide.
Dubai, United Arab Emirates
Famous for housing the world's tallest building Burj Khalifa, Dubai is truly a city of the future. The city has luxurious five-star hotels, pristine beaches, and lots of supercars running on its streets. In addition to that, Dubai focuses on becoming the world leader in a blockchain-powered government and aims to go paperless for all the city's transactions.
San Francisco, United States of America
As the commercial and financial hub of the United States, San Francisco is home to hundreds of tech companies, including Google, Apple, Twitter, and Meta. It is the choice of tech startups all over the globe. Public transport is equipped with interactive touch screens and free Wi-Fi abounds in the city. It is also the first city in the US to legalize same-sex marriage.
This small island city-state is among the fastest-rising urban centers in Asia. It has a highly developed free-market economy. Its extensive network of trade links makes the country one of the busiest ports in the world. Known for its first-class education system Singapore also has a reputation for significantly low crime rates and enforcing strict crime and environmental laws.
Japan has been the center of innovation in the advanced technology space ever since the dawn of the 21st century. In Japan's Tokyo, the municipal government has plans to build a high-tech, sustainable city on reclaimed land in its bay area. New technologies will be used to make the city carbon-neutral and better able to withstand future climate and health crises.
Bengaluru in India, once a favorite destination for retirees, has become one of the world's fastest-growing cities that have evolved into an IT hub. Known as the Silicon Valley of India, the city has become the primary recruiter of the finest graduates of top institutions across India. The city houses tech companies like Infosys, Wipro, IBM, Accenture, Google, Amazon, and Cisco.