Republic Day: Give a patriotic touch to your home decor
Republic Day: Give a patriotic touch to your home decor
Jan 25, 2023, 07:50 am
2 min read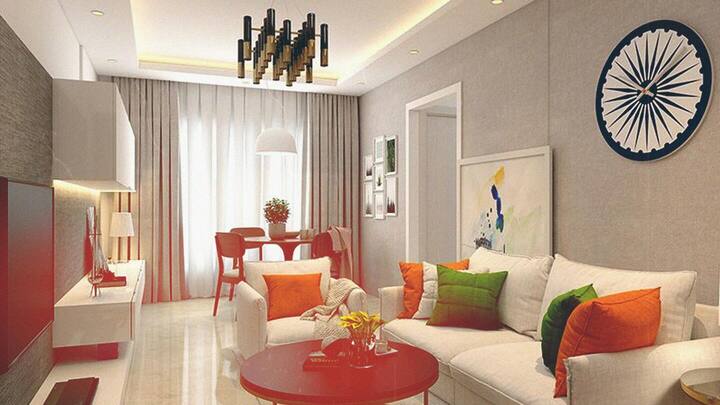 January 26 is a special date for every Indian as our constitution came into force on this day in 1950. This Republic Day, add a patriotic touch to your home by changing the color palette to the tricolor. If you are looking to elevate your space on this auspicious occasion, take note of these simple makeovers you can do in your home.
Add some tricolored upholstery 
You can start by changing the cushion covers to the colors of our national flag - saffron, white and green. You can also throw in a tricolor drape over your sofa. Stick to the same tricolor theme for your curtains. This is probably one of the simplest Republic Day decor ideas that can easily add a patriotic look and feel to your space.
Refurbish your kids' bedrooms
Children's rooms are typically playful and fun spots in every home. You can easily spread a patriotic vibe in your child's room by installing tricolor theme wallpaper on the walls. You can also consider hanging a giant political or physical map of India on the walls. Here is your chance to ignite the spark of patriotism in your child, do not miss it.
Deck up your dining space 
Your dining space is probably another place suitable to play around and experiment with the tricolor theme. Throw in tricolor runners and coasters, paper hangings, and tie balloons to the corners of the chairs. You can also bring colored porcelain plates and bowls to the table. This tricolor theme will also make some excellent Instagram-friendly photos.
Riding the tricolor theme, add flowers in shades of saffron, white and green to your vase. Look for saffron flowers like marigolds and pair them with white-colored flowers and arrange them in a vase. Place the vase on your dining table or coffee table where they are visible from all corners of the room. You can also make a floral rangoli at your entrance.
Accessorize with national symbols 
Why stay limited to the tricolor theme when you can play around with accessories depicting the national symbol of India? Incorporating the national emblem Ashoka Pillars, and symbols like peacock, tiger, and banyan tree into your home's decor can enhance the overall look of your home. Showcase your patriotism by installing mini metal sculptures of such national symbols or through abstract wall art.