This Republic Day, go all tricolor with these beverages
This Republic Day, go all tricolor with these beverages
Jan 25, 2023, 04:00 am
2 min read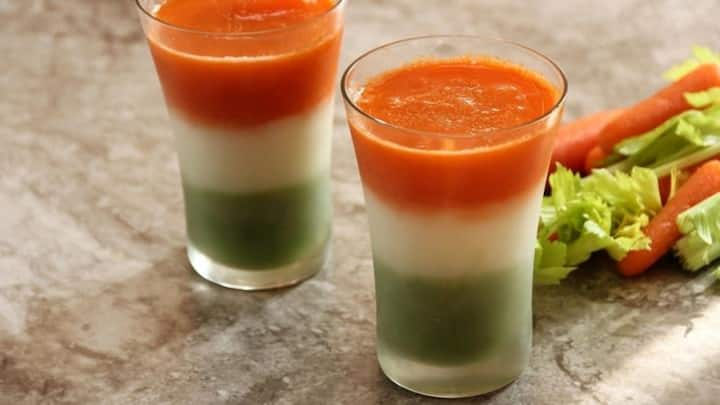 Republic Day is here and it is time to celebrate the event by gobbling on some delicious food and drinks while watching the iconic Parade. Since the day represents patriotism and our love for the country, we should celebrate it with tri-colored food items and beverages to make it extra colorful. Here are some tricolor beverages that will ignite feelings of patriotism in you.
Blend together mint leaves, coriander leaves, salt, and jeera for the green color. Blend ripe papaya and sugar for the saffron color and melt ice cream for the white color. Pour the green juice and papaya juice into an ice tray and frost overnight. Add the mint cubes into a glass followed by ice cream and papaya cubes. Add fizzy soda and serve chilled.
This creamy and chilled tricolor lassi is perfect to have on this day. Whisk yogurt well, add cardamom powder and sugar to it, and whisk again. Blend kesar syrup and khus syrup with yogurt separately. First, pour the green-colored yogurt into a tall glass followed by the plain white yogurt and saffron-colored yogurt. Garnish with pistachios and serve chilled.
Reflecting the colors of the Indian flag, this tricolor beverage is a must-have on Republic Day. Add muddled lime wedges, mojito syrup, mint leaves, and lime juice at the bottom of a tall glass. Add fizzy soda and ice cubes and mix well. Add orange juice and orange marmalade and mix again. Garnish with an orange slice and a lime wedge and serve chilled.
This tricolor smoothie is healthy, wholesome, and nutritious. Blend together chopped spinach, kiwi, chia seeds, and honey until smooth, and pour into a glass. Blend together chopped banana, honey, yogurt, and flax seeds in another blender and pour on top of the green smoothie. Then blend honey and ripe papaya and pour on top of the white smoothie. Garnish with nuts and serve chilled.