Engineering gold medalist, 11-time MP Sharad Yadav mastered socialist politics
Engineering gold medalist, 11-time MP Sharad Yadav mastered socialist politics
Jan 13, 2023, 11:26 am
4 min read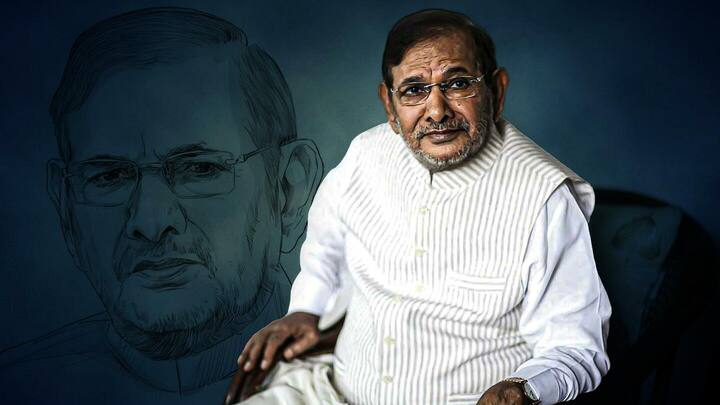 Former Union Minister and ex-Janata Dal (United) chief, Sharad Yadav (75), passed away on Thursday evening at Fortis Memorial Research Institute, Gurugram. He was a veteran socialist leader with a career spanning over half a century, during which he was elected seven times to the Lok Sabha and four times to the Rajya Sabha. Here, we highlight some important aspects of his political life.
Entered youth politics inspired by Lohia
Yadav was born on July 1, 1947 at Babai in Hoshangabad district of Madhya Pradesh. He received a gold medal in engineering from Jabalpur Engineering College. Greatly influenced by socialist leader Ram Manohar Lohia, he got involved in youth politics. He participated in several mass movements and was detained under the controversial Maintenance of Internal Security Act (MISA) amid turmoil in the 70s.
Fielded by JP Narayan against Congress, won in 1974
Yadav's first electoral win came in 1974 when JP Narayan, who was then leading a movement sweeping the Hindi heartland, fielded him as a joint Opposition candidate against the then mighty Congress in the bypolls. He bagged the Jabalpur Lok Sabha seat aged 27, which catapulted him into the political battlefield against then Prime Minister Indira Gandhi, who declared an Emergency in 1975.
Emerged as an anti-Emergency leader
After the Emergency was lifted in 1977 and new elections were called, he emerged as one of the several leaders of the anti-Emergency movement and was re-elected from the same constituency. The Janata Party was formed under Narayan's guidance, and came to power as Congress experienced an unprecedented defeat. When the Janata Party split in 1979, he sided with the Chaudhry Charan Singh faction.
Rajiv Gandhi registered his first LS win against Yadav
In 1981, he contested the Lok Sabha byelection from UP's Amethi on a ticket from Singh's Lok Dal but lost to Rajiv Gandhi—who bagged his first Parliament seat. In 1984, he lost from Badaun, UP on a Lok Dal ticket but won in the 1989 polls on a ticket from Janata Dal—formed by the merger of the Janata Party and a Lok Dal faction.
Played significant role in implementation of Mandal Commission recommendations
In the 1990s, he rose to become one of the Janata Parivar's frontline leaders, reportedly playing a significant role in the implementation of Mandal Commission recommendations advocating for reservations for the Other Backward (OBC). In the late 1990s, his then party, the Janata Dal, aligned with the BJP, becoming a constituent of the National Democratic Alliance (NDA).
Held several Union ministries
He served as the Union minister for textiles and food processing industries from 1989 to 1990. In Atal Bihari Vajpayee's government, he became the Union minister for civil aviation from 1999 to 2001, following which he held the Ministry of Labour and Employment until 2002. From 2002 to 2004, he helmed the Union ministry for consumer affairs, food and public distribution.
Yadav was instrumental in Lalu becoming Bihar's CM in 1990
Bihar became his political home and he is said to have played a crucial role in instating Lalu Yadav as Bihar's CM in 1990. He contested from Bihar's Madhepura constituency and won in 1991, 1996, 1999, and 2009. He lost the seat four times—twice to Lalu Yadav in 1998 and 2004, and to Pappu Yadav and Dinesh Yadav in 2014 and 2019, respectively.
On and off relationship with JD(U), BJP
Nitish Kumar brought in Yadav as Janata Dal (United)'s national president. He was instrumental in the merger of George Fernandes's Samata Party and Kumar's JD(U), which allied with the BJP in the 2005 Bihar Assembly elections. Yadav left the NDA as Kumar shunned the alliance in 2013, following which they joined hands with Lalu Yadav to defeat BJP in the 2015 state Assembly polls.
He parted ways with the JD(U) after it allied with the BJP and launched the Loktantrik Janata Dal (LJD) in 2018. His daughter, Subhashini Raj Rao, joined the Congress before the 2020 Bihar Assembly elections. In the turn of events, LJD merged with Lalu Yadav's Rashtriya Janata Dal (RJD), and she contested from the Bihariganj seat on an RJD ticket but lost.