Jagdeep Dhankhar is India's 14th vice president
Jagdeep Dhankhar is India's 14th vice president
Written by
Manzoor-ul-Hassan
Aug 06, 2022, 08:17 pm
3 min read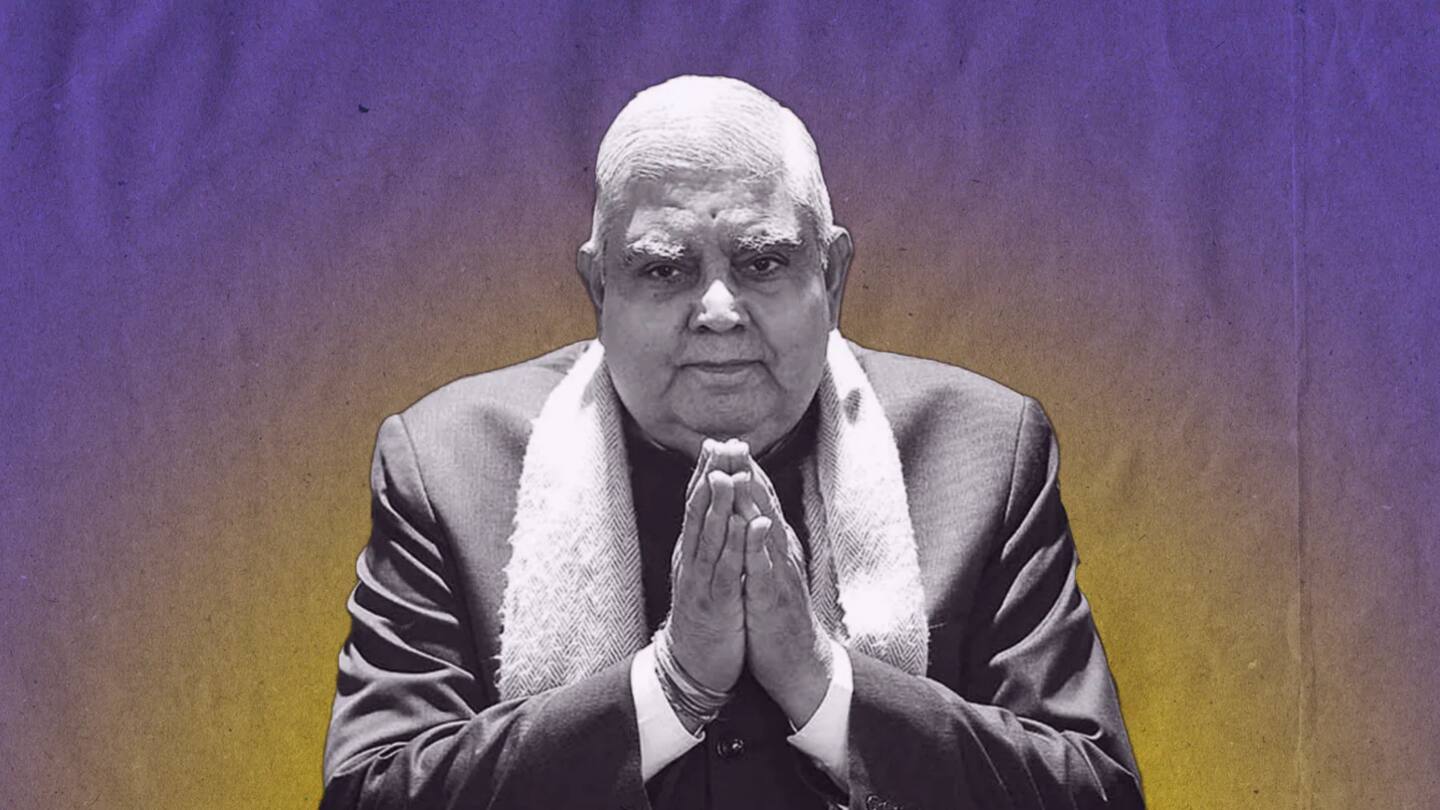 Former West Bengal Governor Jagdeep Dhankhar has been elected as the 14th vice president of India. On Saturday, the National Democratic Alliance (NDA) candidate won the majority of votes in the vice presidential polls against the Opposition nominee Magaret Alva. Dhankhar clinched 528 votes, while Alva got only 182 votes, as per officials. He will now take the oath of office on August 11.
Why does this story matter?
Dhankhar was leading the race from early on as the Bharatiya Janata Party-led (BJP) NDA had the support of the required number of MPs and the backing of several smaller parties.
He was a practicing lawyer and became a Union minister in the Chandra Shekhar government (1990-91).
Dhankhar—as West Bengal's governor—was at loggerheads with CM Mamata Banerjee for the most part of his term.
BJP begins celebrations, PM Modi meets Dhankhar
The BJP camp began celebrations shortly after the result was announced. Prime Minister Narendra Modi met Dhankar at his house in Delhi and congratulated him. As per reports, senior party leaders, including Amit Shah and JP Nadda, also met the new vice president. Earlier, Banerjee's Trinamool Congress (TMC), one of the largest opposition parties in the Parliament, announced that it will abstain from voting.
Dhankar secured 74.36% votes, highest in last six VP elections
According to the returning officer of the VP election, 725 of the total 780 electors cast ballots; however, 15 votes were judged to be invalid. They said the turnout was 92.94%, and a candidate required 356 votes to be elected. Dhankhar received 74.36% of all valid votes. It is the largest margin of victory in the past six vice presidential elections since 1997.
Alva congratulates Dhankhar
Alva congratulated Dhankhar on his win. She also thanked leaders of the opposition parties and MPs from across parties who voted for her in this election. "This election is over. The battle for protecting our Constitution, strengthening our democracy, and restoring the dignity of Parliament will continue," she said immediately after the results were announced.
YSRCP, BSP supported Dhankhar; AAP, TRS voted for Alva
Andhra Pradesh's ruling Yuvajana Shramika Rythu Congress Party (YSRCP), Mayawati's Bahujan Samaj Party (BSP), and Odisha CM Naveen Patnaik's Biju Janata Dal (BJD) supported the NDA candidate Dhankhar. Notably, these parties had also supported Droupadi Murmu during the presidential election last month. Meanwhile, Telangana Rashtra Samithi (TRS), Aam Aadmi Party (AAP), and the nine MPs of Shiv Sena's Uddhav Thackeray faction supported Alva.
The vice president presides over the upper house of Parliament, i.e., the Rajya Sabha. In the absence of India's president owing to various reasons, intentional or unintentional, the vice president becomes the acting president until the president resumes office or a new president is nominated.