Asia's largest liquid mirror telescope launched in Uttarakhand
Asia's largest liquid mirror telescope launched in Uttarakhand
Mar 22, 2023, 01:00 pm
3 min read
Asia's largest four-meter International Liquid Mirror Telescope (ILMT) is now operational in Devasthal in Uttarakhand. The telescope will be ​useful ​for ​gravitational ​lensing ​studies ​and for the identification of ​celestial ​objects ​such as asteroids, ​supernovae, and space debris. The telescope is situated at an altitude of 2,450 meters and is maintained by the Aryabhata Research Institute of Observational Sciences (ARIES).
Why does this story matter?
The inauguration of ILMT marks a significant scientific milestone for India.
Notably, ILMT is the first liquid mirror telescope in the country and is built exclusively for astronomical observations.
The Devasthal Observatory is now home to two four-meter class telescopes, the ILMT and the Devasthal Optical Telescope (DOT). Both are the largest aperture telescopes available in the country.
How does the telescope work?
ILMT employs a four-meter-diameter rotating mirror made up of a thin film of liquid mercury to collect and focus light. The telescope will survey the sky passing overhead each night, allowing it to detect transient stellar sources like space debris, and asteroids. In the process, it will generate nearly 10-15 gigabytes of data which will be analyzed using AI to classify celestial objects.
ILMT works on Liquid Mirror technology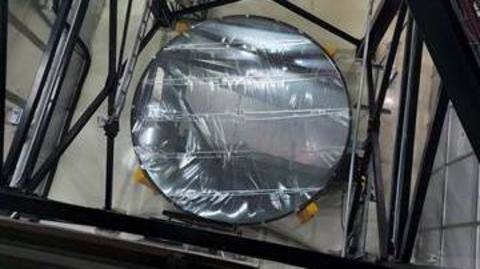 ILMT uses Liquid Mirror technology where three components are essential: a ​dish ​containing ​a ​reflecting ​liquid ​metal ​(mercury), ​an ​air ​bearing ​or a motor where the liquid mirror is placed, and ​a ​drive ​system. The surface of the spinning liquid takes on a parabolic shape which is ideal for focusing light. A thin transparent film of mylar protects the mercury from the wind.
An electronic camera located at the focus records the images
The reflected light passes through a multi-lens optical corrector that produces sharp images over a wide field of view. A large-format electronic camera, located above the mirror at the focus, records 22 arcminute wide strips of the sky.
The telescope is particularly sensitive to faint and diffuse objects
Professor Paul Hickson, an expert on liquid mirror technology from the University of British Columbia, Canada, explained, "The rotation of the Earth causes the images to drift across the camera, but this motion is compensated electronically by the camera." "This mode of operation increases observing efficiency and makes the telescope particularly sensitive to faint and diffuse objects."
ILMT is a collaboration between several scientific institutions  
The telescope was designed and built by the Advanced Mechanical and Optical Systems (AMOS) Corporation and the Centre Spatial de Liège in Belgium. ILMT is the result of a collaboration between several scientific institutions, including Poznan Observatory in Poland, the University of British Columbia, Laval University, the University of Montreal, the University of Toronto, York University, and the University of Victoria in Canada.