Microsoft services face outage: Teams, Outlook, Azure down globally
Microsoft services face outage: Teams, Outlook, Azure down globally
Jan 25, 2023, 02:07 pm
3 min read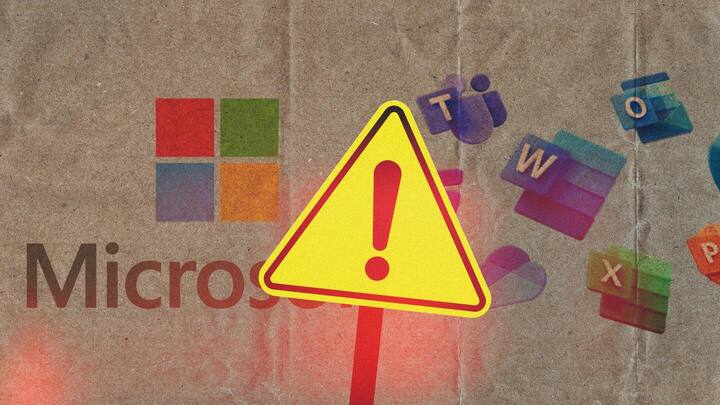 Multiple Microsoft services, like Outlook and Teams, are down for users around the world, including India. The company said that it is investigating the issue. Per the outage tracking website Downdetector.com, over 3,900 users were unable to access Teams, the popular business communications platform, in our country. The company's other services such as Azure, Microsoft 365, Store, and LinkedIn have also been affected.
Issues began to surface around 12:30 pm IST
Microsoft has attributed the outage to a networking issue. "We've isolated the problem to networking configuration issues, and we're analyzing the best mitigation strategy to address these without causing additional impact," the company said in a tweet. Issues began to surface around 12:30 pm IST. Many users of Teams encountered a message that read "there was a glitch, and we're recovering."
The issue could be related to Azure cloud
Considering the magnitude of the outage, it seems that the issue is related to a server that hosts the affected services. Microsoft hosts all its services on its Azure cloud. An issue with the cloud could be the reason why several Microsoft services went offline. Per the company, Teams, Exchange Online, Outlook, SharePoint Online, OneDrive for Business, and Graph were among the affected services.
Users in Australia, UK, US, and Japan were affected too
Microsoft has not disclosed the total number of users impacted by the outage. According to Downdetector.com, users in Australia, Japan, the UK, the US, and UAE were among those who were affected. Most users were unable to join calls, exchange messages, or use any features of the Teams application during the outage. Many users took to Twitter to share updates about the disruption.
An outage of this magnitude is rare for Microsoft services
This is, by far, the biggest outage in a while. It is rare to see Microsoft services experience an outage of this magnitude. In 2021, Teams faced two outages in two months, one for four hours and the other for two hours. The first outage in March affected most of the same group of presently impacted services.
Microsoft rolled back network change that potentially caused outage
Microsoft is currently working on fixing the issue. According to the Microsoft 365 service status page, there is no error as of now. The status page has a cheery note that says "everything is up and running." The company has also rolled back a network change that it believes caused the outage. It is monitoring the impact of the rollback.
Microsoft is monitoring the rollback
We've rolled back a network change that we believe is causing impact. We're monitoring the service as the rollback takes effect.

— Microsoft 365 Status (@MSFT365Status) January 25, 2023